Black History Biographies Pt. 3: Muddy Waters
McKinley Morganfield, better known for his childhood nickname, Muddy Waters, was born in Issaquena County, Mississippi in 1913. From a young age, he worked as a sharecropper on a local cotton plantation. He began playing the harmonica and 5 and learned to sing at his church. At the age of seventeen, he sold the last horse that belonged to him and his grandmother for $15, he spent $2.50 of it on his first guitar. His music career began as he played his Delta blues for his fellow sharecroppers and a local pub.
Muddy Waters gained serious traction in rural, Black Mississippi and was asked to join Big Joe Williams, an esteemed blues guitarist, on a tour of the Mississippi Delta in the early 1930s.
In the early 1940s, the library of congress launched a project to record and archive the folk and blues songs of the Deep South. Alan Lomax, an ethnomusicologist hired by the library of congress, traveled to Mississippi in 1941 to record Robert Johnson, another blues guitarist in Eastern Mississippi. After arriving in Clarksdale and finding out that Johnson had died three years prior, locals directed Lomax to Muddy Waters, a young, talented, blues guitarist.
"He brought his stuff down and recorded me right in my house, and when he played back the first song I sounded just like anybody's records. Man, you don't know how I felt that Saturday afternoon when I heard that voice and it was my own voice. Later on, he sent me two copies of the pressing and a check for twenty bucks, and I carried that record up to the corner and put it on the jukebox. Just played it and played it and said, 'I can do it, I can do it'."
After being recorded, Muddy Waters felt a new sense of confidence in himself and his music. He decided to leave rural Mississippi for Chicago in 1943, in hopes of abandoning plantation life and becoming a full-time musician.
In Chicago, Muddy Waters worked in a factory by day and opened for more established musicians by night. Waters' music was known to excite the crowd, with his more positive and optimistic blues, as compared to the regular sad blues that was already well known. His music was heavily inspired by the work songs of his plantation and the church songs he had sung as a child. His lyrical content was known to reflect the optimism of post-war African Americans, as the economy was recovering after the war.
Muddy Waters became one of the first blues musicians to play an electric guitar for the reason that "When I went into the clubs, the first thing I wanted was an amplifier. Couldn't nobody hear you with an acoustic." 
In 1946, Muddy Waters recorded an album with Columbia Records but unfortunately, didn't get much traction for it due to the pianist's name accidentally being used on the record instead of his. Later that year, he started recording songs with the newly formed Aristocrat (later 'Chess') Records. His songs "I Feel Like I'm Going Home," "I Can't Be Satisfied," and his signature song, "Rollin' Stone" became hits.
For the next few years, Muddy Waters continued writing songs and recording them with Chess Records, he only played in Chicago clubs until the late 1950s. Some of his top songs from this era include "Sugar Sweet," "Trouble No More," "Forty Days and Forty Nights," and many more.
For the rest of his career, Muddy Waters recorded more music and toured across the United States and England, spreading his influential electric blues style across the western world. As he toured, Waters inspired the next generation of musicians around the world. A few of the most notable musicians and groups that he inspired include Jimi Hendrix, Eric Clapton, The Rolling Stones, Fleetwood Mac, Led Zeppelin, Steppenwolf, Supertramp, and Paul Rodgers.
"They thought I was a Big Bill Broonzy [but] I wasn't. I had my amplifier and Spann and I was going to do a Chicago thing. We opened up in Leeds, England. I was definitely too loud for them. The next morning we were in the headlines of the paper, 'Screaming Guitar and Howling Piano'"
Muddy Waters passed away at the age of 70 on April 30, 1983. He is largely remembered for his contributions in founding the genre of rock and roll and influencing a countless number of musicians. It is important to acknowledge and celebrate the Black origins of rock and roll, as shown in the life of Muddy Waters.
Leave a Comment
Donate to Enloe Eagle's Eye
Your donation will support the student journalists of Enloe Magnet High School, allowing us to cover our annual website costs. We are extremely grateful for any contribution, big or small!
About the Contributor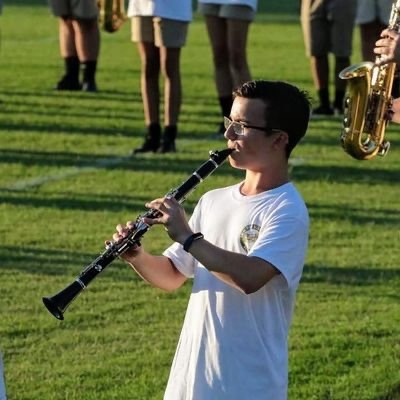 Matthew Burkhart, News Editor
(He/him)

Matthew is a senior and is very excited to be the news editor this year! He loves writing about political issues and local news. Outside of...