Eagle Travel Logs: San Francisco
Disclaimer: I am lucky enough to be double-vaccinated and have taken the proper precautions to make my timely escape from North Carolina. Please do the same if you too have the privilege to carve yourself an underground tunnel to literally any other place in a northern direction.
As some of us Eagles are on the go this summer, we're still keeping in touch. Introducing Eagle Travel Logs, made for you to live vicariously through our lives and beg your parents to leave this wretched country-bumpkin wonderland, sometimes known as North Cackalacky. 
First stop, San Francisco. I have accepted the gracious role of my travel persona of Girl That Dances With Carry-On Luggage. I was excited to be here, I've never been to the West Coast before. I mean, people actually use their bike as a mode of transportation here. Most cities in my experience don't respect these athletic but environmentally-conscious people. My first day was an odd mid-day transition of three hour jet lag, but not without some productivity. I have quickly realized there are two dishes that can match a beneficial religious experience, especially in SF.
New England Clam Chowder (I know, odd choice for the West Coast, but trust the process) served in—wait for it—a homemade sourdough bread bowl. Like okay, sounds simple, but wait for your socks to be knocked clean off at the speed of light. The idea that your bowl is also food is

innovation that excites

and should be given a Pulitzer for it's narrative-adjacent portrayal. I can only compare it to the

Ratatouille

scene where Remington fireworks as he tastes his food. I eat shredded Mexican four-blend cheese out of the bag though so maybe you need a rat-chef to prove it to you.

Absolutely Anything ahi tuna poke-related is gospel. Regarding any seaside travel, do not order chicken strips; your family will look at you funny. I recommend that if you are cuisine-simple like me, you perhaps get seafood if you are, in fact, seaside. Ahi Tuna Poke is always always always a safe bet. In California, there's this chain called

Lemonade

and these Californians, they call it "Health Food". This is a mean but effective tactic to shame you into eating healthier while you are here, unfortunately. While at

Lemonade

please do yourself the world's biggest favor: get yourself an Ahi Tuna Poke taco because these two baby tacos, I kid you not, made me believe in God herself. 
Aside from food, San Francisco has so much to offer. Along with being the coldest sunny and foggy place on Earth, everyone dresses straight out of my Pinterest board and every dog looks like their owner. It's the 101 Dalmatians scene, come to life. It's rich with Black, Brown, Asian American, and LGBTQ+ culture, art, and history. Right now, as we speak, or rather I force my opinion on you, Nam June Paik is being shown at the SFMoMA. If you didn't know, Nam June Paik was one of the most influential Asian American voices in contemporary art today. And it's not only the high art scene that is revolutionary in this city; it's the entirety of it's art. On any given street there's murals and murals and commercial art and murals. This city was built on the backs of the PoCs that live here and it's clearly shown true this constant expression.
This constant art is obviously translated to its architecture as well. Yes, a large part of San Francisco consists of skyscrapers upon skyscrapers, but these buildings are filled to the brim with Art Deco, eclectic  colors, and figures. These towering bodies fade into this eclipsing fog that I just wish I could describe with justice for y'all. The town cars and trams have beautiful Euro-reminiscent painted swirls and numbers along the side of them. And if you get tired of boxes with people in them, take to the ocean where you can make friends with seals, or if you have the mentality of a 3-year-old (like yours truly), terrorize pigeons running after their fat little bodies.
Fisherman's Wharf is a great look at the port and crashing water below you. If you make your way to Pier 39, you will find a veritable who's who of useless shops, and it is amazing. Still, the piers have amazing seafood, Italian, Latine, and Asian restaurants that are worth a visit. I just recommend you don't pay $6 for cotton candy.
Exploring the natural flora and fauna of California? Look no further than Golden Gate National Park. This place is full of palm trees and art museums and then some more palm trees. There was a statue of slaveholder Francis Scott-Key recently knocked down at this site and is now surrounded by "350 ancestral sculptures" according to Monumental Reckoning . It's home to cultural art, local food trucks, oddly-shaped but nevertheless beautiful trees and probably the Golden Gate. Visit another site in this immense park and you'll have an oceanside view of this stunning bridge. Nearby there is a veteran's memorial with insight on how the government treated and still treats the enlisted. Golden Gate National Park is definitely a must-see on your next trip to San Francisco.
SanFran is a premier place to feel like the main character. It's filled with history that isn't so angeringly Eurocentric. The food is life-changing. The art scene especially keeps you on your toes, creating fusions between cultures to Golden-Gate-bridge the gaps between communities. Even if the buildings were butt-ugly (and they are not) the enveloping weather is too breathtaking for you to care. Seeing where Otis Redding was "Sittin' on the Dock of the Bay" was enlightening to say the least. Everything and everyone is unbelievably beautiful here. If you ever have the absolute privilege to be here, you should.
Leave a Comment
Donate to Enloe Eagle's Eye
Your donation will support the student journalists of Enloe Magnet High School, allowing us to cover our annual website costs. We are extremely grateful for any contribution, big or small!
About the Contributor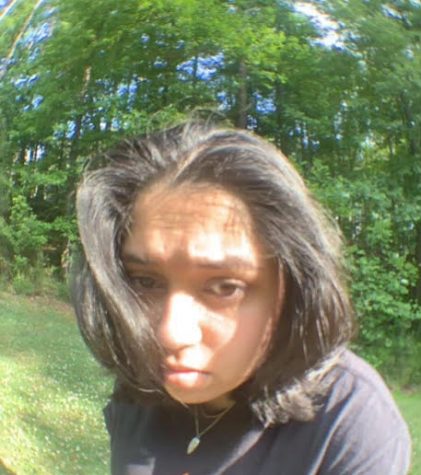 Oishii Basu, Arts & Entertainment Editor
(She/her)

A. Oishii Basu is the A&E editor on the Eagle's Eye. Outside of Newspaper, she enjoys making art, curating playlists and hanging out with...