Enloe Dance Department: "Dancing for each other, dancing for the Enloe community"
Hidden above the West Gym in a poorly air-conditioned hallway is Enloe's very own dance department. Its placement in the school building may seem like it would be easy to forget, but the Enloe Dance Department has made its mark in the Raleigh community as one of Wake County's most reputable high school dance departments. 
A major player in building this reputation was Courtney Greer, who retired from public dance institutions this school year after working as a dance teacher at Enloe for over 20 years. Ms. Hickey, an Enloe dance teacher, remarked on Greer's departure from Enloe, calling it "a topic of conversation — something that unifies strangers" in the Raleigh community. It's no surprise that her outreach spans beyond the walls of Enloe. Ava Roark, the Enloe Dance Club President and former student of Greer, claims, "One of the most important things that Ms. Greer did was bring the dance department outside of Enloe." From expanding the outreach of Enloe's Dance Ensemble to solidifying the places of each dance style, Greer made changes that not only worked to improve the curriculum for Enloe dancers but to form meaningful connections within the community. "[Greer] did such a great job with building the levels, the solid curriculum, and making sure that dance was known at Enloe — making sure that Enloe holds its reputation in Wake County," says Mrs. McRae, another dance teacher at Enloe. She sees this school year as being defined by "Growth and new ways, new beginnings. Hickey was hired two years ago, Wilson was just hired this year. [It's] a year of transformation and growth and seeing the possibilities." 
"
One thing about Enloe dance is that it's highly reputable and that is something that they keep consistent."
— Ms. Wilson, new Enloe dance teacher, former Enloe dance student
Though Greer's absence has been felt throughout Raleigh, Ms. Wilson, the newest addition to the Enloe Dance staff, has stepped up to the challenge. As a former Enloe dance student, Ms. Wilson says that coming back "feels familiar." She looks back fondly on her time at Enloe and claims that her experience as a dancer here "carried [her] through college." "In the dance world, Enloe is known… If I said I went to Enloe, they'd be like, 'Oh, you went to Enloe,'" Wilson recalled. She attributes these reactions to the reputation of quality and excellence held by the Enloe Dance Department, something Ms. Wilson hopes to continue now as a teacher; "I want to make sure my students are able to have that kind of background, and then have something to stand on. They can say they went to Enloe, and then have the knowledge to back that up." Dance Ensemble, the pre-college dance group at Enloe, has provided Ms. Wilson the space to build this kind of knowledge. Enloe's Dance Ensemble is a small group of highly-skilled dancers who "act as dance department liaisons" by advertising the department and advocating for dance at various skill-levels. Ms. Wilson remarked that it's "as close to a modern dance company as you get in Enloe… They are held to just a higher standard and are strictly prepared for college dance." Despite Dance Ensemble being the only designated pre-college dance class at Enloe, Wilson claims, "Enloe has one of the closest dance programs to a college program you will find in North Carolina — It's what brought me back".
"
History and the style itself should never be separated from each other. They go hand-in-hand, as they should."
— Ms. Hickey, Enloe dance teacher
One of the aspects that makes Enloe so extraordinary in their dance department is its ability to offer style-specific classes and at multiple skill levels, with styles such as Modern, Jazz, Ballet, and Tap offered. Ms. Hickey commented, "As the tap teacher, I know how rare it is to have this as an opportunity for a course at a high school level. Enloe has the only WCPSS high school program that has Tap as an option for a dance form. And since it is one of the only truly American dance forms, I think it's amazing that we get the opportunity to study that here." Learning about the culture and history behind a dance style is something that is lacking at many studio dance classes, yet is something so significant to the teaching of dance. Ava Roark commented on these connections, saying, "What sets Enloe apart is not only teaching this history, teaching these different styles, building the community [and] interconnectedness of it, but also just acknowledging that these things need to happen." At Enloe, dance is understood and taught as something that is intersectional. The importance of dance history is especially heightened for styles such as Tap, as explained by Roark: "Something that I'm really passionate about is tap history because it is something that's not taught about often. It is rooted in black excellence, and it's something that has been highly white-washed." Roark hopes to expand on this intersectionality as President of Enloe Dance Club by including more diversity in dance styles and members. 
The Enloe Dance Department offers incredible accessibility to dance through its classes and dance club, which goes a long way for students who can't afford expensive studio classes. From beginner to pre-college level classes, the Enloe Dance Department offers an array of dance forms, levels, and opportunities for students looking to get involved. Roark added, "It doesn't matter how much technique you have, it doesn't matter how much dance experience you have — that's really not what the most important part of Enloe dance is. It's really the willingness to be a part of the community, to participate, to choreograph, and to use your ideas to further the entire group effort… Dance by itself is important, but being able to perform it and apply it in other areas is what makes it beneficial, so I would say just to put yourself out there."  
Leave a Comment
Donate to Enloe Eagle's Eye
Your donation will support the student journalists of Enloe Magnet High School, allowing us to cover our annual website costs. We are extremely grateful for any contribution, big or small!
About the Contributor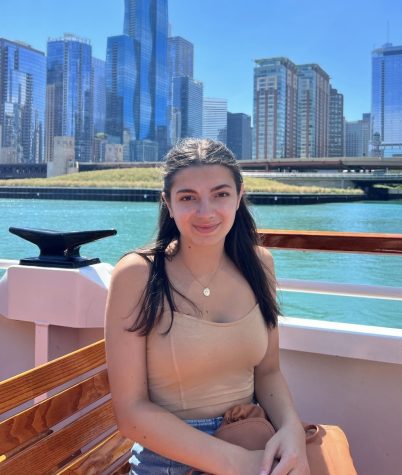 Olivia Metelo, News Editor
(She/her)

Olivia is a senior and is so excited to be the News editor for the Eagle's Eye this year! She's very passionate about politics and current...