Enloe Arts Return to the Stage
For the first time in two years, parents, teachers, and students gathered in the auditorium to hear music from Enloe's band, orchestra, and chorus programs for their winter concerts. Not only did these concerts showcase how talented the music department is, but also how the music teachers and students pushed through the challenges after a year of playing behind a screen.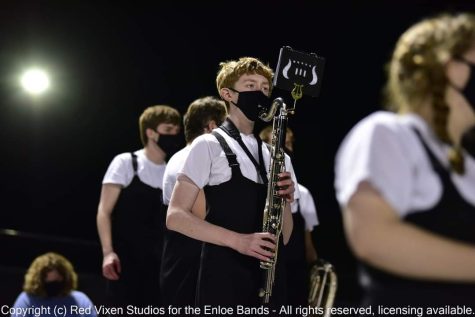 As the bands at Enloe are mostly made up of wind instruments, the program has endured some serious challenges in order to comply with COVID-19 protocol. Every wind instrument must have a bell cover, a tight cloth covering the bell, or end of a horn. Each wind instrument must also be played with a musicians' mask, which is a layered cloth mask split in the middle to fit a mouthpiece into the mask. While these might not sound like major changes, they have a big impact on the way certain instruments are played, the french horn being the most obvious, as one key aspect of playing the horn is being able to put your hand inside the bell of the horn. Not only has playing been altered due to the pandemic, but also teaching, "I've lost the ability to look at someone's embouchure (how the mouth interacts with the mouthpiece) and diagnose a problem," said Mr. Hunter, Enloe's band director. "I have to do it solely on what I hear and that's not necessarily a bad thing, but looking at an embouchure is something that I've grown accustomed to being able to do." While these challenges are certainly frustrating, Mr. Hunter and the bands are glad to be back. "It's a problem, but I'm glad for us to be back playing and I look forward to getting rid of those [masks]."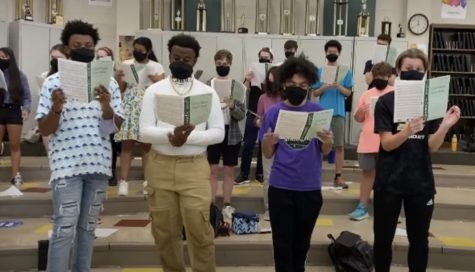 The chorus program has also endured similar challenges, as specific safety measures and regulations have been put in place for them. Instead of musicians' masks, the chorus uses singers' masks. "A singers' mask has extra material than a regular mask. Instead of going around the ears, it goes around the entire head with two straps, and then it has an extension on the front so that there is more space for the jaw and the mouth to drop without the mask falling off the nose or the chin peeking out from under the mask," said Mrs. Hallihan, the chorus director. Along with band, the chorus program wasn't supplied with a sufficient amount of PPE at the beginning of the year. "At the beginning of the school year, I didn't have enough singers' masks, and singers' masks were required then in order for us to sing in the building, so we actually used to go outside every day and when it rained, we went under the awning outside of the library." While this certainly has been challenging for the program, the chorus is grateful to be able to sing again. "We've been fortunate enough not to have to stop singing, which is something they had suggested last year."
While the orchestra program does not face the safety challenges that the band and chorus programs do, playing together as an ensemble has certainly been a challenge after a year of playing through a screen. "When you're at home and just playing your own part and you just hear yourself, we just get very focused and tunnel-visioned. Being back in person and playing next to people around you, you have to listen, you have to watch the conductor and it's not just about you anymore," said Ms. Ju.
With the return of concerts, most claim that concerts feel a bit different than before school went virtual. "I will say that the biggest difference I've noticed is just the enthusiasm," said Ms. Ju. "Coming back in person, a lot of people are very excited to get back into the routine of performing for people and not just seeing an avatar." "It felt more special, only because it's been a long time, but I look forward to them just getting back to being routine," said Mr. Hunter.
Not only are concerts important for teachers and students, but also the parents of students. "I think it's so important because to me, being in an arts class, it's almost a necessity for the school day that you have," said Mrs. Hallihan. "It's a place to release emotion, to feel accepted, and I want parents to see that in their students' faces. They may hear about it in passing when the kids come home, but they can actually see it and see the project they've been working towards finally come to fruition." One benefit of the pandemic is that it has normalized the ability to stream events online; "One of the things that the pandemic has taught us is how to reach more people through technology. I don't want to perform through technology, but I think if you can stream it through technology, that's a win," said Ms. Ju.
The next step for the music department lies in the creation of Enloe's new Tri-M chapter, which is an organization that gathers students from the band, chorus, orchestra, and piano programs to serve their community through the lens of music. "I definitely think that the pandemic showed us that we need community," said Mrs. Hallihan. "And also with the introduction of Ms. Ju this year, it was kind of like, 'Hey, let's figure out a way to get all these kids together to do more stuff together.' And I think I can see some of that stuff happening in the future, not just with Tri-M, but with other opportunities for us as a whole music department."
"I think we as a society hopefully have learned not to think too far into the future but kind of live in the now, be in the present and enjoy what's happening in front of you." – Ms. Ju 
Leave a Comment
Donate to Enloe Eagle's Eye
Your donation will support the student journalists of Enloe Magnet High School, allowing us to cover our annual website costs. We are extremely grateful for any contribution, big or small!
About the Contributor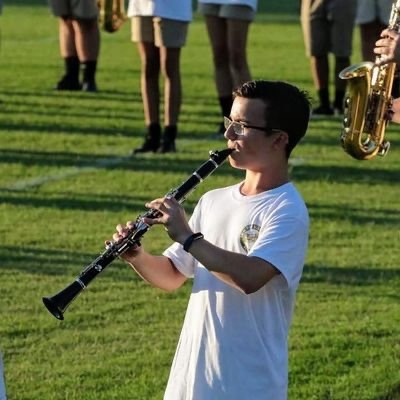 Matthew Burkhart, News Editor
(He/him)

Matthew is a senior and is very excited to be the news editor this year! He loves writing about political issues and local news. Outside of...