Inflation Reduction Act with Congresswoman Deborah Ross
On August 16th, 2022, President Joe Biden signed the Inflation Reduction Act (IRA Act) into law. Though the bill will have a massive impact on the economy of the United States, many Enloe High School students have little knowledge about the contents of the Act. In a poll posted on the Enloe Eagle's Eye's Instagram Story, including 364 students, only 15% of respondents were aware of the bill. Furthermore, only 30% of students were able to correctly identify the amount of revenue that would be raised by the IRA Act. Taking a detailed look at the legislation will illustrate how impactful this bill will be to the U.S. and, possibly, a community near you. 
The Inflation Reduction Act is a package of investments with the aim of stimulating the economy while delivering on key Biden administration priorities such as climate change, support for American manufacturing, and lowering the costs of healthcare. It also reduces the federal deficit, the amount of money that the Federal Government spends beyond what it collects from taxes, by $238 billion. When asked by the Eagle's Eye about the bill, Congresswoman Deborah Ross (NC-02) provided input on its impact on North Carolina: "North Carolinians need relief from rising prices, and the Inflation Reduction Act takes action to lower everyday costs, including health care and energy costs, putting money back in the pockets of hardworking North Carolinians." 
Climate Change Policy 
Seen by many as a major victory for progressives and climate change advocates, the Inflation Reduction Act makes large improvements to American climate change policy. The Bill allocates $391 billion toward energy security and climate change, making it the largest piece of federal legislation that deals with climate change in U.S. history. Though the bill has a long list of provisions regarding this policy, the most influential projects include improving energy efficiency, increasing energy production, and decarbonizing the economy. A detailed list of investments by specific goal can be found here. 
One program directly affecting North Carolinians is Congresswoman Deborah Ross's clean energy provision, which she spoke about during our interview: "The Inflation Reduction Act also included my provision to repeal the 10-year offshore wind leasing moratorium off the coasts of North Carolina, South Carolina, Georgia, and Florida. North Carolina is perfectly positioned to lead the country in offshore wind energy development. Investing in clean energy creates good-paying jobs, spurs economic growth, and helps us combat the climate crisis."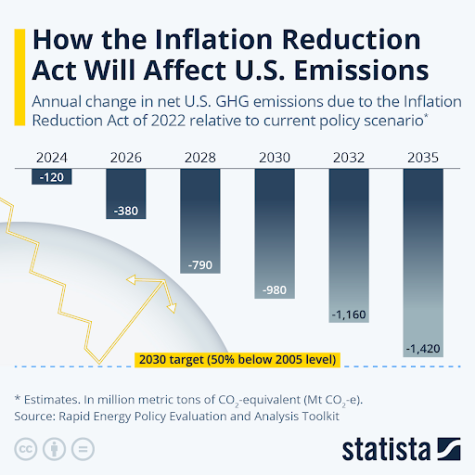 Improving American Manufacturing
American manufacturing remains an extremely sensitive issue for politicians. You may have observed the topic being discussed during the 2016 and 2020 presidential elections, with candidates debating their positions on programs to bring jobs back to the U.S. 
Providing for "clean energy jobs" remains a priority during much of the bill; the Act will, in the White House's words, "Build American clean energy supply chains, by incentivizing domestic production in clean energy technologies" and "create good-paying union jobs in energy communities."
Rising costs of Healthcare
Inflation has caused a rise in prices for nearly every consumer product industry. Whether it be your local grocery store trip, getting lunch down at the food hall, or your morning Starbucks order, the costs to get simple items has doubled. The most important sector of the economy, the healthcare industry has seen a massive increase in prices leading to financial burdens for many Americans. For example, CNN Business reported that a survey found that "roughly one in four adults are skipping care or medicine due to rising costs, and 39% have major concerns about affording care in the coming months." 
The Inflation Reduction Act deals with some healthcare costs through a variety of actions. Firstly, a portion of revenue for the entire act will be raised through Medicare negotiating the prices of prescription drugs. Secondly, the bill will expand Obamacare subsidies for three more years.  Lastly, provisions have been added to cap the price of insulin at $35 a month and out-of-pocket drug costs at $2,000 for Medicare patients. 
Opposition? 
Though named the "Inflation Reduction Act," the bill's ability to actually curb inflation is heavily debated by many economists and think tanks. Tax Foundation, a conservative-leaning organization, published within their report on the bill that "by increasing spending, the bill worsens inflation, especially in the first four years, as revenue raisers take time to ramp up and the deficit increases." The organization also estimated a GDP loss of 0.2%.
Some organizations have had different estimations/calculations of the impacts of the act. The Committee for a Responsible Federal Budget wrote that "the legislation would reduce deficits by $305 billion through 2031 – including over $100 billion of net scorable savings and another $200 billion of gross revenue from stronger tax compliance."
Leave a Comment
Donate to Enloe Eagle's Eye
Your donation will support the student journalists of Enloe Magnet High School, allowing us to cover our annual website costs. We are extremely grateful for any contribution, big or small!
About the Contributor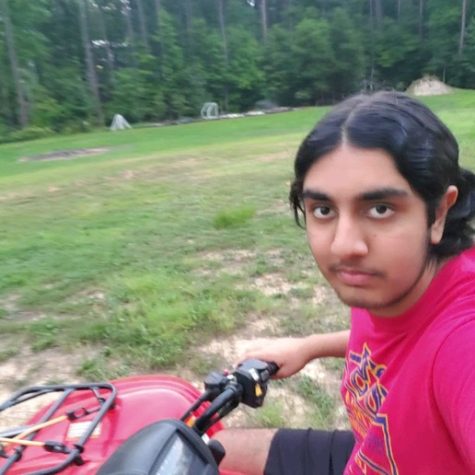 Akshat Yadav, Staff Writer
(He/him)

Akshat is a junior at Enloe! He is passionate about international relations, politics, Kendrick Lamar, and Marvel. Fun fact: He gains a massive...