Senior Spotlight: Joey Thomas
Whether you know him as a sound technician, a bass clarinet player, a years-long German classmate, or just the guy with the Ohio State hoodie, any friend of Joey Thomas can tell a unique story about him. There's truly never a dull moment around Joey–you can count on him to make your day at least a little funnier. However, beyond this lies a talented leader who heads Enloe Theatre's sound department, is a member of the Wind Ensemble with skill in a myriad of musical instruments, and a dedicated individual who is always willing to share his ideas and knowledge with others.
Wait, HOW many instruments??
You may not know this about Joey, but he plays quite a bit more than just the bass clarinet. Aside from some auxiliary clarinets, there's piano, guitar, bass guitar… even the harpsichord and harmonica! After joining his first band in 3rd grade, he describes music as something that's just stuck with him throughout the years. In the coming semester he'll be playing in a concert at ECU, one of his last performances with an Enloe band. Looking back, he appreciates that "there was always a big community," and music will continue to be a part of his life.
Sounds good, but ever wonder why?
If you've been to one of Enloe's mainstage shows in recent times, your ears have heard work mastered by Joey, the Enloe Theatre's sound designer and head of sound crew. With this role, he is tasked with "artistically amplifying actors and musicians" to the effect of–as the role might imply– sounding good. This involves organizing a show's music, sound effects, mics, and sound system into a well-balanced mix. He looks back fondly on Enloe's production of Pippin as a big achievement of his, having taken a significant lead in the design of a huge musical for the first time. A large skill Joey has learned over his time as an Enloe technician is learning to work "on the fly, per event, working with mixing and trying to make everything sound good," as well as taking that experience and teaching others how to do it too.
Looking back, looking forward
Whether it be involvement in a class, a band, or a show, Joey has learned a lot about management, as he puts it. As sound designer, he says that "even though you're a student, you're in charge of getting the entire sound system for a full musical done, which is kind of a lot," noting that he has a very small crew. It's true–having a leadership role over people who are otherwise your peers is a challenge, but it results in "a lot of management and people skills, working between tech departments," or from the perspective of band, "working with other people to try and find what fits a song best." All that commitment has taught Joey a work ethic that helps him "to get things done, and get things done well."
Take this advice from Joey about the Enloe experience: You can have a lot of fun in classes that have "the stigma of ugh, hard, bleh class," like AP Chemistry. "You did have to put in effort," he admits, but "making friends in a lab group, and figuring out stuff [with them] was fun." The same is true for Enloe's history classes, whose teachers he attributes a lot of good influence to. At the end of it all, he concludes that at Enloe "there is a community for you, whether you like it or not." As for himself, Joey will be going to college at NC State or UNC Greensboro (yes, not Ohio State!) to study chemistry or technical theatre design, or both. It's been an absolute joy to get to know Joey, and an honor to highlight his achievements as we approach the end of his high school career. He's going to do some great things, no matter what.
Leave a Comment
Donate to Enloe Eagle's Eye
Your donation will support the student journalists of Enloe Magnet High School, allowing us to cover our annual website costs. We are extremely grateful for any contribution, big or small!
About the Writer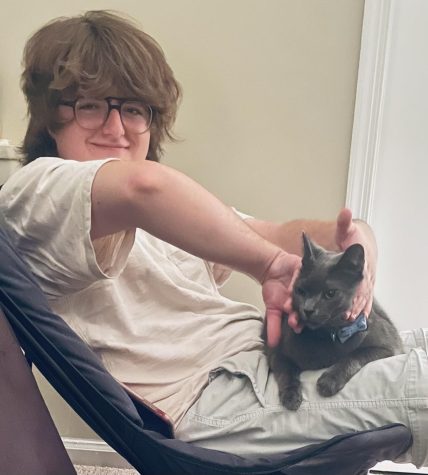 Jadon Frank, Staff Writer
(He/him)

Jadon Frank is a junior looking forward to his first year writing for the Eagle's Eye. If you can find him outside of Enloe's theatre designing...