Senior Spotlight: Anthony Mante
Enloe senior Anthony Mante is known primarily as a classmate, friend, actor, and for some lucky students, the occasional Japanese club attendee. In conversation with Anthony, you will quickly come to appreciate his wit and ability to make any conversation amusing. He is someone you can always count on to bring a group together, and his skill for this is apparent both in and out of Enloe's auditorium. So, let's get to know more about Anthony and his time at Enloe. 
A Star of the Stage
For those who have witnessed Anthony's recent performances, it may come as a surprise that he has only been involved in Enloe's theater program since his junior year at the school. His stardom, however, started much earlier than this. "As a small child, I was always very silly, and my mom made me be in little plays," he says. He also dabbled in theater in middle school, but made his stage debut at Enloe with 110 Stories in the fall of 2021, in which he played Mitchell Peritz, a chiropractor volunteering at the World Trade Center site after 9/11.
Since then, Anthony has been a staple of Enloe's theater productions, including Pippin and Dracula, which Anthony says was one of the highlights of his time at Enloe. Anthony played a deceased soldier in Pippin, and many would consider his headless performance the highlight of the show. Don't worry, though! His body is still intact! When asked what working with the prop used to replicate his severed head was like, Anthony told me that he "felt connected [to the other head] because it was like [his] evil self looking back at [him]," going on to describe the prop as his "Frankenstein, in a sense," and even "a dark twisted homunculus type situation."
When asked how he would describe the Enloe theater community, Anthony said the community was supportive, despite the drama onstage. "I know there's a stereotype of theater kids being horrible, and it's literally me, but it's not really anyone else," he jokes. While he concedes that theater can be "a lot," he says that there is always something fun going on, and he is glad to be a part of the Enloe theater community.
In his next appearance onstage for the spring musical the Little Mermaid, Anthony is excited to portray Chef Louis as well as be the understudy for Eric. "I will actually be making real dishes," he says. In addition to his culinary experience onstage, he is a host at The Big Easy in Raleigh. "I love being a host. [I feel like] I'm in character when I'm seating people," Anthony says. "It's like method acting, […] because I'm actually a host, so the role I'm preparing for is the role I'm in."
After Enloe
Anthony says that throughout his time at Enloe, his family and friends have been his biggest supporters. Post graduation from Enloe, he plans to attend college and ultimately pursue a career in political science. So far, he has applied to UNC Chapel Hill, NC State University, Appalachian State University, and several other schools within the UNC system. His goal is to go to law school and eventually become a public defender, and he is also interested in possibly becoming a political campaign manager. He is not yet sure whether he will continue his theater involvement in a more competitive college environment, but says his political involvement at Enloe ("tweeting from class," as he puts it) will certainly continue past his time here, and I believe that whatever he decides to do, it will certainly be appreciated at Enloe and beyond.
Leave a Comment
Donate to Enloe Eagle's Eye
Your donation will support the student journalists of Enloe Magnet High School, allowing us to cover our annual website costs. We are extremely grateful for any contribution, big or small!
About the Contributor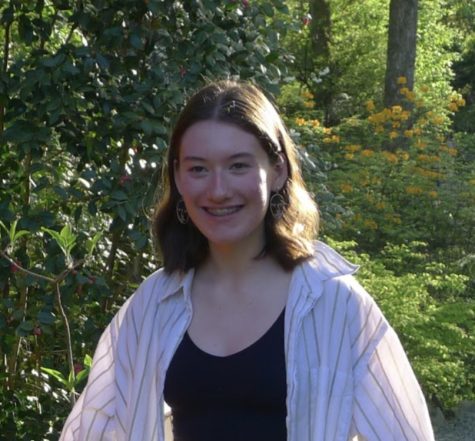 Elizabeth Sobel, Staff Writer
(She/Her)

Elizabeth is a first year staff writer on the Eagle's Eye and a junior at Enloe. She spends most of her time practicing harp, painting, and...