Senior Spotlight: Olivia Stallworth
If you go to Enloe, you have definitely seen Oliva Stallworth around, whether it be anchoring on the LoeDown, running a student council meeting, or on stage as a member of Enloe's dance ensemble or as a member of BSU. However, her most memorable contribution to Enloe's community is her witty comments and positive attitude. 
Olivia has been a part of the student council since her freshman year, when she was an advisory member after being encouraged by her brother to join. "[My position] made me more comfortable with people," she says. "I got to know people of all different grades and it gave me something to look forward to during school." Working her way up to senator and then Senior Class President has been a journey. "I'm just really proud of my growth," says Olivia. "I feel like the Student Council has helped me gain confidence in my abilities to lead groups of people for a certain cause." And she certainly is good at it, leading the senior council and organizing events for seniors such as game night, movie night, and the senior picnic. 
She was also encouraged by her older brother to join the Black Student Union her freshman year. "I knew that I wanted to be a part of the Black population at Enloe more than just statistically," Olivia says. She is incredibly passionate about BSU and the BHM showcase, saying "It's just great to be able to represent different cultural aspects of Enloe because we're so diverse. I'm glad that we're able to give a spotlight on black history and the importance of allowing black people to tell their own stories." Her impact on BSU is undeniable, but it has also made an impact on her, with her closest friends to this day being people she met in freshman year through the club.
​​The dancing that she has done in the Black History Month show is not the only dance Olivia has done on the Enloe Stage. She has been dancing her whole life, thinking of it as a hobby. She has been dancing at Enloe since her freshman year, and met amazing people from different dance backgrounds. However, she was apprehensive about joining Enloe's Dance Ensemble, saying "I didn't think I could be a serious dancer, just because I've never thought of it that way. I've never been told that I could possibly dance professionally or thought I was on a level to take dance seriously." However, if you've ever seen Olivia take the stage, you would know that she is more than qualified to be a member of the group. "This year has really expanded my horizons on what it means to be a dancer and an artist," Olivia says. "Dance ensemble has challenged me a lot. But everyone in the class is so supportive and it's a great network of people to work with. [It's] really cemented my love for dancing."
Olivia also has a love for film, and wanted to be a part of the LoeDown since an open house of Enloe in eighth grade when she saw the studio. Her immediate love of the studio has only grown. "I love being on the 'LoeDown," says Oliva. "Me and the rest of the crew members have gotten really close over the past couple of years because we see each other every day. Everyone is so talented with the different segments that they come up with." You have probably seen Olivia as an anchor every morning, and watching her is definitely a highlight of Enloe student's days. 
Both the 'LoeDown and Dance Ensemble have had an impact on Olivia's future plans. In college she is planning on studying film production, with a concentration in directing and screenwriting. When asked about dancing in college she says, "Even though I'm not majoring in it in college, I don't want to stop dancing permanently. I'm definitely gonna try to join a club or something like that."
In her free time, when she isn't participating in a million Enloe activities, Olivia loves to cook. Since she learned how to make scrambled eggs at the age of five, she hasn't been able to stay out of the kitchen. If you ever have any six random ingredients, find her and she will make you a meal. One fun fact about Olivia, which many people don't know about, is her goal to go on an international tour of the foods and various cuisines on all the different continents. "I've never been a picky eater and I think food brings people together," she says. "It's also a good way to share culture and different experiences."
Make sure to tune into the LoeDown or attend a dance concert to see Olivia's talent in a flesh. Another fun fact, if you ever need a recommendation for a monochromatic fit, she's your girl. We, at the Eagle's Eye, wish her luck on all of her adventures, and cannot wait to see her Instagram posts of her international food tour. And now, in her own words, "Olivia out."
Leave a Comment
Donate to Enloe Eagle's Eye
Your donation will support the student journalists of Enloe Magnet High School, allowing us to cover our annual website costs. We are extremely grateful for any contribution, big or small!
About the Contributor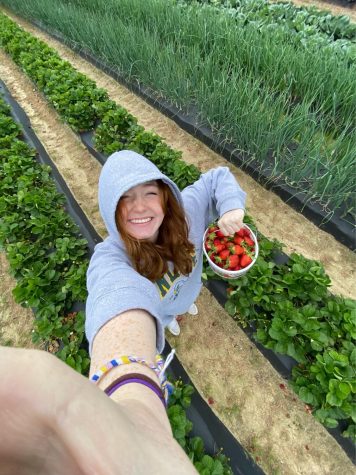 Kelley Calvillo, Staff Writer
(She/her)

Kelley Cavillo is a junior and so excited to be a part of the Eagle's Eye! She loves dance, but when she isn't in the studio you can find...