North Carolina Lawmakers Pass a 12-week Abortion Ban
On May 4, the North Carolina legislature passed a ban on nearly all abortions after 12 weeks of pregnancy. The bill comes after the controversial overturning of Roe v. Wade by the United States Supreme Court in June 2022. 
S.B.20 passed 29-20 in the Senate along party lines after a five-hour debate, after being approved 71-46 by the House of Representatives on May 3. It is one of many to be introduced in similar states after the U.S. Supreme Court reverted the power to regulate abortion back to states in Dobbs v. Jackson Women's Health Organization, thus allowing conservative state legislatures to create stricter laws.
Under the new proposal, abortions would be illegal after the first trimester except in cases of rape, incest, medical emergencies, and life-limiting fetal anomalies. It would also require doctors to be present during the administration of abortion medication, with a $5,000 fine against those who mail abortion pills or prescribe abortion medication outside the presence of a doctor, including in telemedicine appointments. This limits the possibility of those pregnant to take mifepristone, an abortion pill whose FDA approval was recently protected by the U.S. Supreme Court.
The ban now goes to Governor Roy Cooper, who announced his intent to veto the bill. Cooper, who has called the ban "extreme," has 10 days to act. Despite his almost certain rejection of the bill, the Republican Party now holds a supermajority in the House, giving them the capability of passing the bill without Cooper's approval.
North Carolina Republicans gained this supermajority after former Democrat State Rep. Tricia Cotham announced that she was switching parties on April 5, stating that "the modern-day Democratic Party has become unrecognizable to me" (CNN).
Cotham's vote on May 3 marks a significant shift in her stance on abortion from a year ago. 
"Now, more than ever we need leaders who will be unwavering and unapologetic in their support of abortion rights. I'll fight to codify Roe in the #ncga and continue my strong record of defending the right to choose," said Cotham via Twitter on May 3, 2022. 
While the bill is less strict than recent bans by other states, consequences of the ban would not be limited to North Carolina residents. Since the U. S. Supreme Court's decision in Dobbs v. Jackson Women's Health Organization, the state has become a destination for people seeking abortions in nearby conservative states with bans on the procedure. 
Abortions in North Carolina have risen by 37%, more than any other state, according to a study by the Society of Family Planning. In the two months prior to the Court's decision, there were 788 monthly abortions on average in North Carolina. In the six months following the ruling, there have been on average 3,978 monthly abortions in the state.
The bill leaves many women concerned about the future of pregnancy in North Carolina.
"The fact is that so many women are unable to access birth control, either because of cost or personal medical issues. Some women's medication doesn't work with birth control, and many women's bodies don't work well with it either," says Kelley Calvillo, junior at Enloe and co-president of the Butterfly Effect club.
Calvillo also noted the complexities of women's menstrual cycles as a factor that could make abortion decisions more difficult.
"Not every woman gets their period every month regularly and could have no idea they are pregnant," says Calvillo.
For some people, shortening the permitted abortion time from 20 to 12 weeks means that they will not have access to an abortion, which some, like Calvillo, believe could lead to unwanted children.
"Especially with the state of our women's healthcare system, it is ridiculous to expect any woman who gets pregnant to even be [financially] capable of taking care of a child, let alone have a desire to," says Calvillo. "And it is even more ridiculous to expect a woman to have enough time to realize she is pregnant and then make the incredibly difficult decision to terminate the pregnancy within 12 weeks."
Works Cited
Chen, David W., and Kate Kelly. "North Carolina Legislature Passes 12-Week Abortion Ban." The New York Times, 4 May 2023, https://www.nytimes.com/2023/05/04/us/abortion-ban-north-carolina.html?searchResultPosition=1.
Gallagher, Dianne, and Devon M. Sayers. "North Carolina Democrat Switches Parties Giving Republicans Veto-Proof Supermajority in State House." CNN, 5 Apr. 2023, https://www.cnn.com/2023/04/05/politics/north-carolina-republican-supermajority-democrat-switch-parties/index.html. 
Kelly, Kate. "How the Fall of Roe Turned North Carolina Into an Abortion Destination." The New York Times, 4 Mar. 2023, https://www.nytimes.com/2023/03/04/us/abortion-north-carolina.html. 
"NC House Republicans Abandon Campaign Promises With Vote For Extreme Abortion Ban." NCDP, 4 May 2023, https://www.ncdp.org/media/nc-house-republicans-abandon-campaign-promises-with-vote-for-extreme-abortion-ban/. 
"North Carolina House Passes 12-Week Abortion Ban." Reuters, 4 May 2023, https://www.reuters.com/world/us/north-carolina-house-passes-12-week-abortion-ban-2023-05-04/. 
"S.B.20 – North Carolina Senate (2023): Care for Women, Children, and Families Act." ncleg.gov, General Assembly of North Carolina, 4 May 2023, https://webservices.ncleg.gov/ViewBillDocument/2023/5307/0/S20-PCCS15344-BC-2. 
Robertson, Gary D., and Hannah Schoenbaum. "NC Lawmakers Pass 12-Week Abortion Ban; Governor Vows Veto." AP News, 4 May 2023, https://apnews.com/article/north-carolina-abortion-restrictions-legislature-fc7f84c6b4e4398da1b7ab920150fa27.
Sherman, Mark. "Supreme Court Preserves Access to Abortion Pill for Now." AP News, 21 Apr. 2023, https://apnews.com/article/supreme-court-abortion-pill-mifepristone-access-f781488016640bf571faf36096339ea4. 
United States, Supreme Court. Dobbs, State Health Officer of the Mississippi Department of Health, et al. v. Jackson Women's Health Organization et al. Docket no. 19–1392, 24 June 2022. United States Supreme Court, https://www.supremecourt.gov/opinions/21pdf/19-1392_6j37.pdf.
Leave a Comment
Donate to Enloe Eagle's Eye
Your donation will support the student journalists of Enloe Magnet High School, allowing us to cover our annual website costs. We are extremely grateful for any contribution, big or small!
About the Contributor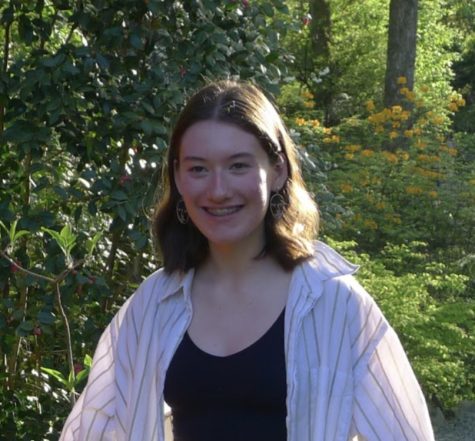 Elizabeth Sobel, Staff Writer
(She/Her)

Elizabeth is a first year staff writer on the Eagle's Eye and a junior at Enloe. She spends most of her time practicing harp, painting, and...