The Off-Season: Enloe Men's Hoops
The Enloe Men's Varsity Basketball Team will host Knightdale in their season opener tonight at the nest. If you're a basketball fanatic like myself, you're in the right place. If you aren't even sure how many players are allowed to be on the court at once, that's ok too. (It's five by the way). If your phone accidentally clicked on the link to send you to this article, stay a while. Trust me. It won't be too bad.
Tonight marks the start of a new season. A new roster of fourteen guys ready to hoop. A new team identity emphasized on culture and commitment. A new understanding of what it takes to be great. Tonight is the first of many great games of the season. And there's a lot to be excited about. Three of those reasons are Senior Point Guard Josh Laney, Senior Small Forward Chris Brandon, and Junior Shooting Guard Fisayo Adebimpe. I had the opportunity to sit down with these guys and talk about all things Enloe Hoops. And here's how it went. 
Although the team's first game is tonight, the season is already well underway. The season started over the summer. While the rest of us were vacationing and enjoying our summers, these guys were in the gym every day. Working. Lifting. Building trust with one another. Transitioning from fourteen guys who liked to hoop to a ball club that represents one school. I asked Senior Captain Josh Laney just how important the off-season was, and here's what he had to say, "The off-season was great. Going from having no gym last offseason to being in the gym almost every day this year was super beneficial. I feel like we're ahead of the curve now from the work we've put in over the summer so now it's just time to show that off." 
"My expectations are through the roof. I'm looking to win a state championship, and there is no ceiling. The only thing that can stop us, is us. All of us have bought in and we have everything we need to make that state championship goal a reality." This is the response I got from Laney upon asking him what his expectations were for the team this year. And I believed him. Laney has been a part of the Enloe Basketball program since his freshman year. He spent one year on the JV squad, was called up to varsity his sophomore year, and hasn't looked back since. As his last year as a member of the varsity team begins, Laney has expectations for this team that some might think are crazy. But he doesn't care. Nor do the thirteen guys that rally behind him. 
Laney's Enloe basketball experience has been one of the most meaningful of his life. The brotherhood that he's been a part of the past three years, the dynamic relationship between him and head coach Emanuel "Poobie" Chapman, and the personal development both on and off the court that I have had the pleasure to witness are just some of the things that can define his varsity career. Laney is a senior. This is his last year to prove everyone who has ever doubted him and his team wrong. I asked Laney if there was one game that stood out to him on this season's schedule, and man was his response spot on, "Every. Single. Game. Every opportunity we have to take the floor is a chance to shut down any trash talk from our competitors, any talk about last year, or anybody that doubted me or this team." Josh Laney is on a mission. And there's not much anyone is going to be able to do to stop him.
Senior Forward Chris Brandon might be one of the most athletic ballplayers I have ever seen in my seventeen years of watching hoops. The kid can jump to the moon, his hand-eye coordination is off the charts, and his lateral quickness is unmatched. Unfortunately for most of us, we were not able to witness this last year. But this year is going to be different. We'll be able to see Chris Brandon. Just a warning, some of the things he is able to do on the court are not supposed to be humanly possible. But he just does it. 
I asked Brandon one simple question, "What's going to be different about the team this year?" This is what he had to say, "This season I feel that our energy and our mindset is going to be different. Now that we can play with a packed crowd it will add along to the energy we bring to the court which is going to be a big help while we play. We are coming into the season with a winning mindset and more confidence." If you are not a part of at least one of the packed crowds this season, you're missing out. Chris Brandon playing ball is must-see entertainment.
Junior Shooting Guard Fisayo Adebimpe is one of the most important pieces to this team. His hustle, his winning mindset, and his leadership ability are what's going to make this team tough to match up with this year. Adebimpe is a floor general on the court, an extension of the coach. When I asked him how this mantra of leadership and accountability came about, he said, "Since I was a freshman, Coach Chapman told me I didn't have to be the oldest on the team to be a leader. Nor did I have to be the most skilled. Being a leader means vocally keeping the team together. It means ensuring that our communication on and off the court is on point." 
For all the people who accidentally clicked on this article, that wasn't too bad, right? I hope you learned a little something about Enloe Men's Hoops. For all of my basketball fanatics, I hope I gave you the inside scoop you need to enjoy tonight's game and the rest of the season. And to Josh, Chris, and Fisayo – Thank you guys for taking the time to sit down and talk with me. You've put in the work during the off-season. You've grinded in practice day in and day out. You've sacrificed your last name on the back of the jersey for our school name on the front. Everything is in place for you guys to be great. Now go out and get it.
Tonight. 7:00 pm. At the nest. Be there. You don't want to miss it.
Leave a Comment
Donate to Enloe Eagle's Eye
Your donation will support the student journalists of Enloe Magnet High School, allowing us to cover our annual website costs. We are extremely grateful for any contribution, big or small!
About the Contributor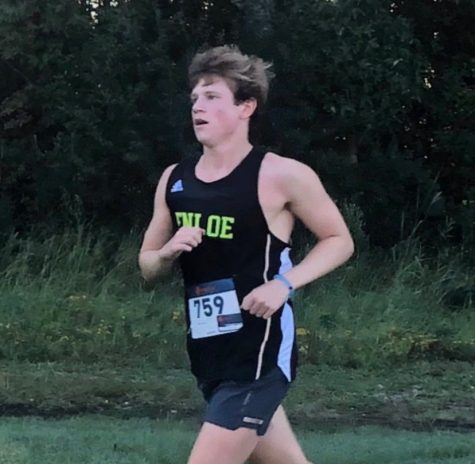 Jesse Gordon, Sports Editor
Jesse Gordon is currently a senior here at Enloe. When not writing, he enjoys watching the NBA and the NFL, along with collegiate sports. Jesse is extremely...