The Madness Behind March Madness
If you didn't know, March Madness is coming up very soon. The popular college basketball tournament, NCAA, is a time of crazy tension, filling out brackets, and nights by the TV rooting for your favorite college team. Fans fill out their brackets for how they think the tournament will play out, even if it ends up being completely inaccurate. Tears may be shed if brackets don't go the way people want. Of course their favorite rivalries are the games people look forward to the most. When asking Enloe students their favorite rivalry, there were two responses:  Duke vs UNC and NC State vs. UNC. As much as every opinion is valid, the very popular blue vs blue rivalry is the one that holds the craziest fan base considering the event, rivalry weekend, has so much lead up. Rivalry Weekend is the last UNC vs. Duke game before March Madness. When it's time for the game, fans paint their bodies their specific blue and scream at the top of their lungs for each basket that's scored. Some people are known to make their school spirit their entire personalities for the month.
UNC has a very crazy and well known tradition, The Rush on Franklin Street. It's exactly what it sounds like; people run onto Franklin Street. It was estimated that up to 55,000 people rush Franklin Street after any kind of win against Duke during March Madness. Our Co-editor in chief, Charlene Wu, has her own opinions on The Rush. "It's the freaking purge. A bell rings and everyone starts running and burning stuff. Tell me, is it not the purge?!" With Covid, UNC may try to keep The Rush on Franklin Street more contained and less "purge-like," but if we know anything, it's that people will find a way. An Enloe alumni currently attending UNC, Lauren Ferlito, was able to take part in The Rush on Franklin Street this past weekend. "My first Franklin Rush was last night and I do like the tradition! The energy and excitement was high and it was cool to all come together as a school." Who knows what new traditions may sprout this year?
Duke has a tradition that some deem as ridiculous as well: "Tenting." Students set up tents in Krzyzewskiville aka "K-ville," to get tickets for the student section of the rivalry weekend UNC and Duke game. This can take place over a couple weeks, a month, or longer. Participants of "tenting" also participate in a large event of tent checks, food trucks, partying, and concerts. If they pass their tent checks, their goal is reached. So many groups were interested that they had to do an interest test to qualify. Enloe senior, Ellen Zeng, was not originally a fan of basketball, but after getting into Duke, her view changed. "At first I thought tenting was pretty crazy (sleeping outside for [weeks] to watch a basketball game?!), but after I got into Duke and got more involved… I've warmed up to the idea of it because basketball is such an integral part of Duke's school culture and spirit." The past couple years, Duke has also started a Carolina Hate Week with different events spread out through the week before the big UNC and Duke game. It may be the start of a new tradition. 
The lead up to Rivalry Weekend and tenting was just as strong this year as it was in the past. Coming back from a heavily regulated year like last year, fans were eager to participate in the traditions leading up to rivalry weekend and march madness. The fans of UNC and Duke are expected to keep up the excitement and fan activities throughout the NCAA tournament. Who knows what the two sides will do when it comes down to it?
Leave a Comment
Donate to Enloe Eagle's Eye
Your donation will support the student journalists of Enloe Magnet High School, allowing us to cover our annual website costs. We are extremely grateful for any contribution, big or small!
About the Contributor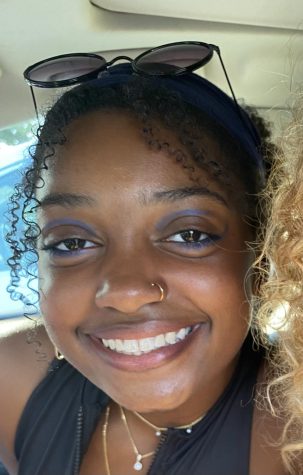 Sophia Stewart, Opinion Editor
(she/her)

Sophia is a senior looking forward to being the Opinion editor for Eagle's Eye. She spends a lot of her time dancing and reading. When she...