Enloe Swimming: Splash Money
For most Enloe students, a Monday night in the middle of December is a time to relax, work on homework and prepare for the week ahead. By 8:00 P.M., most students have had dinner and are winding down for the night, finishing up whatever homework is left to be completed. But for Enloe's Swim Team, it's just getting started.
The team was about to start its second meet of the season. The humid atmosphere in Triangle Aquatic Center wasn't helped by the fact that roughly 50 anxious and excited swimmers, all still recovering from warm-ups, were piled next to the pool ready to cheer each other on. Every time an Enloe swimmer surfaces to take a breath, they're greeted with a thunderous "GO" from their teammates. "It's great because I'm really tired of course, but people cheering me on makes me keep going," said Vedu Pathare, a senior and team captain. For freshman Grady Gospodarek, "hearing people cheer you on from outside the pool is very encouraging to go fast because you know people are relying on you and want you to do well." Once the initial excitement of cheering wears off, they break into groups, while still keeping their eyes on the scoreboard. There can be up to an hour of downtime for swimmers, which is filled with friendly trash talk and nervous discussion. Mia Witherspoon, a senior, described the attitude among the swimmers. "There's a really good support system and everyone just tries to stay positive and do their best […] if there is any trash talk it's because they're trying to motivate each other."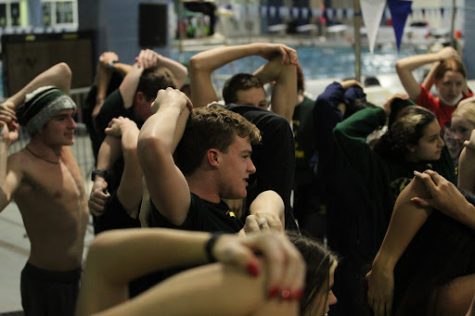 In a sport where 90% of the time you're underwater and can't hear the people around you, it becomes even more important for the team to connect. The next night was filled with more anxiety and excitement, but for an entirely different reason. It was the team's annual holiday party, this year with a tropical theme. The swimmers swapped out speedos for sunwear and gathered for the highlight of the night: a white elephant gift exchange. A variety of gifts both swimming and non-swimming related were unwrapped and stolen throughout the night. It's also, as senior and team captain Sarah Lynerd described, a way to continue team traditions. "Every year someone brings a ski that has been in the team for lots of years. I'm not sure how many, but since before I came to high school."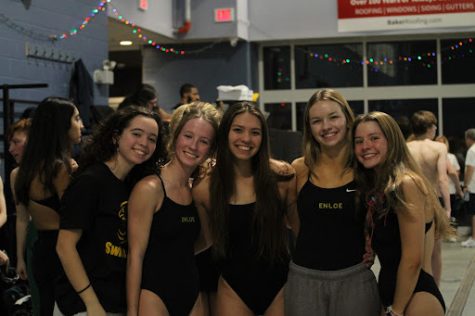 It's traditions like these that make Enloe Swimming such a unique experience. From creative cheers before every meet, to competitions in practice (Coach Buzek's self-endorsed "Buzek Olympics"), there's no shortage of long-standing traditions carried down by the team through the years. But the seniors have also been excited to see the team start new traditions. "Lane one and lane two kinda started a tradition of fist-bumping during practice, which is pretty cool." More importantly, they want to make sure freshman and new swimmers keep up the team's traditions and continue to bond over them. Sarah and the rest of the seniors reminisced on how "[the team] feels more like a family now that [they] know everybody and it feels more like a community."
With just a couple of weeks left before the team begins its postseason meets, the team's chemistry is leading to better performances in the pool. "We've had some improvements," said Coach Buzek, "but there's still quite a bit of growth that needs to happen in these next two weeks." The swimmers credit their improvement to the team's connection and believe it will continue to bring them success. "It's very dependent on how close the team has gotten, I feel like we wouldn't be doing this good if we didn't have such a strong connection," said Mia. Senior and team captain Ava Sharon had her own spin on the team's simple formula for success. "All the close friendships that people have and just like the positive environment we have, keeps people coming to practice every day."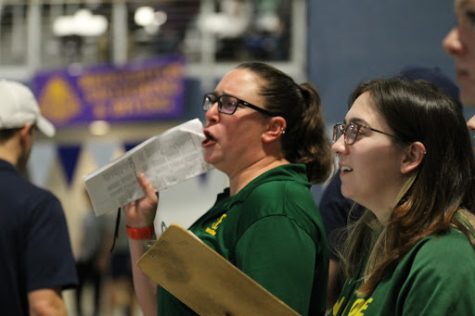 The team swam again on the 17th before preparing for the final conference championship meet on the 21st, although some swimmers may continue working if they qualify for regionals and states in February. If anyone is interested in joining the team next year, the team is more than happy for more swimmers. "If you know how to swim and you're comfortable in the water […] come [try]out for swimming," said Coach Buzek. "We like to have fun, we work hard, we play hard." In the meantime, come support the team as they enter the final stretch of another fantastic season. Sko Eags!
Leave a Comment
Donate to Enloe Eagle's Eye
Your donation will support the student journalists of Enloe Magnet High School, allowing us to cover our annual website costs. We are extremely grateful for any contribution, big or small!
About the Contributor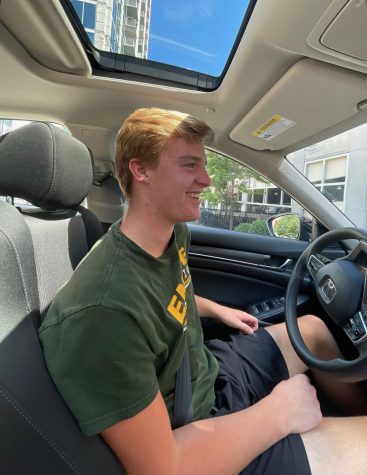 Wyatt Gessner, Staff Writer
(He/him)

Wyatt is a junior who's excited to be a part of the Eagle's  Eye for the first time this year. When he isn't swimming for Enloe he can...