NOT In Their Flop Era: Enloe Diving
Around 7 P.M., three nights a week, a gaggle of Enloe students and other high schoolers enter the Casey Aquatic Center on NCSU's campus. The athletes file in, take their seats, and start stretching, preparing for the next 75 minutes of practicing. They've held previous practices and meets here, and now prepare for their upcoming CAP-6 Conference meet on January 26th.
Divers range from many levels and experience. The team's captain, Henry, joined the team last year and joined a summer league in 2022. A first-year diver, Riley Howell, placed 14th in a previous meet as she has a gymnastics background, which is not unfamiliar for many divers. In diving, there are 5 categories of dives: forward, backward, inward, and reverse. These types of dives can also enter the fifth category when twists are added. Divers receive scores given by judges, which are then multiplied by the level of difficulty of the dive.
When talking about the environment of diving, Henry says "I usually don't enjoy endurance-based sports, but this is more of a community-based sport. At the meets, everyone's supporting everybody else: we cheer when someone flops, and we enjoy hollering at the judges' 'Legal!' so that they keep our dives [in the meet]."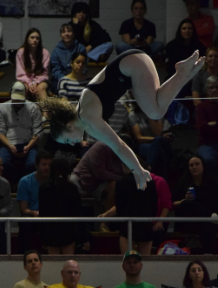 Riley Howell, Jr., at Jan. 13th dive meet
As diving is an individual sport, participants approach the board and perform the dives on their list, which has been curated by each athlete to their own level of experience. Each diver executes one dive at a time, going down the list of divers and looping back around. Some meets are only 6-dives long and other meets are 11-dives long.
Diving works a little differently than your normal Enloe sports team. While most sports practice with their whole team, Enloe practices with multiple schools like Heritage, Cardinal Gibbons, and Leesville. However, this is in no way a downside to divers. Enloe's team loves to be able to practice with so many people who are as passionate as them about diving that can aid them on and off the board.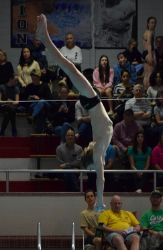 Nicholas Sweet, Fr., at Jan. 13th dive meet
Dive captain, Henry Carroll says "I really love diving because it gives me a space to engage with people that I don't usually talk to and meet new people from other schools."
Frequently after practice, a group of divers will go out and get dinner, or some Cookout milkshakes. Various divers have also taken the initiative to meet up outside of practice at Defy, a trampoline park, where they can work on their dives and spend more time together.
Karla Ferreira, a junior at Wake Stem Early College High School and a member of several Enloe sports teams including gymnastics and diving, has been on the dive team since last year. Karla says "At diving, we usually have a lot of fun and then focus, but we always get more dives in."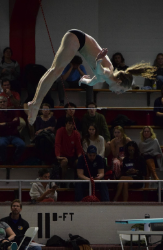 Team Captain Henry Carroll, Jr., at Jan. 13th dive meet
As a member of the dive team myself, I can attest that the environment and community found across various schools when diving is like no other sport I've played. Although all of us are technically against each other competing for first place, we definitely don't act like it. High-experienced divers, first-year divers, and everyone in between gather and form friendships over the sport extending past this shared interest. I am glad to have found a community that is so supportive of Enloe but also allows me to interact with so many students my age that I have no other chance of meeting.
Come get splashed and show support for our Eagles by coming to the team's Conference Meet on January 26th! The meet will be held at NC State's aquatic center at 5 pm, no entry fee required.
Leave a Comment
Donate to Enloe Eagle's Eye
Your donation will support the student journalists of Enloe Magnet High School, allowing us to cover our annual website costs. We are extremely grateful for any contribution, big or small!
About the Contributor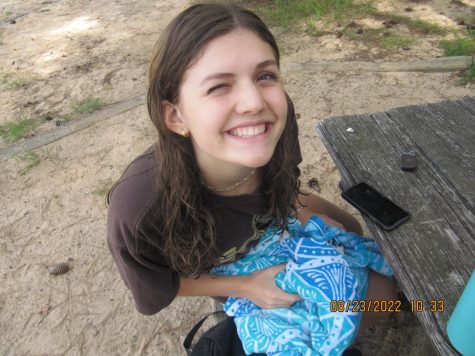 Ellie Maguire, Staff Writer
(She/her)

Ellie is a junior and is thrilled to be a part of the Enloe Eagle's Eye staff this year! When not testing how long she can hold a handstand,...