The Best Show on Amazon Video!
Marvelous Mrs. Maisel returns to Amazon Video for a third season
Marvelous Mrs. Maisel has returned to Amazon Video with a stellar collection of seven jaw-dropping episodes in season three. Directed by Amy Sherman Palladino, this show has made waves over the past three years thanks to the brilliant work of the star-studded cast, intricate costume design and most notably the hilarity and vivacity of the script at hand. 
The show follows the life of Mrs. Maisel, a Jewish woman living in the upper east side of manhattan during the 1950's. One night, she discovers her knack for comedy after catching her husband with another woman, and delivering a hilarious and all too real monologue on the truth behind the housewife role of the 50's. From there, her career takes off. In 2018, the show took home three Emmys, most notably for best comedy series. By dealing with misogyny through the lens of a female comic, the show deals directly with the misogyny faced by not only women, but nontraditional female performers during the time period. Even today, major female comics are a recent development within the entertainment industry. 
What struck me most about season three is the focus on the narrative of Shy Baldwin, and African American singer/songwriter that Mrs. Maisel goes on tour with as his opener visiting cities such as las vegas, Miami, and the big apple. This narrative brings to light the power and importance of African American musicians during this time period, and the development of jazz during this period. In shows typically set in the 50's people of color rarely make the screen. In season three, Shy Baldwin and his entourage serve are a key aspect to the series plot, and take the mainstage through their musical and intellectual expertise. 
As Maisel and Shy's relationship goes from professional to personal, social issues are openly addressed between the characters, such as race, sexuality, and class struggle during this time period. In earlier seasons, there are instances of comedians facing arrest due to speech deemed too racy and inappropriate by police. The show has never failed to directly address the prejudice and hatred that plagued the 1950's, rather than romanticizing the era as most entertainment productions do. 
In future seasons, I hope to see further emphasis on the POC experience during the 1950s, and the development of Shy and Maisel's relationship. This show has broken boundaries, and has managed to cover an array of topics that have been left out of the Hollywood narrative, allowing the audience to both laugh and cry throughout the wonderful journey of Midge Maisel.
Leave a Comment
About the Contributor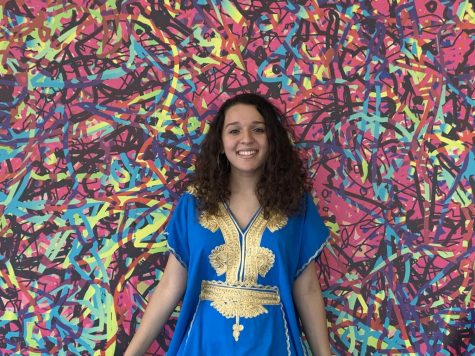 Malak Dridi, Co Editor-in-Chief
Aside from working on the Eagle's Eye, Malak enjoys being a member of the happy accidents improv troupe and working at Raleigh Little Theatre as a teacher...