2020 Fashion Trend Predictions
Fashion in the New Decade
The 2010s will surely go down in fashion history. We started the decade with the downfall of Juicy and aggressive branding at the conclusion of the recession, and ended it with the resurgence of that same flex culture that permeated a 2000s-era economy. Now, in the height of celebrity endorsement from high-profile "influencers", the future of fits will be determined by volatile trends in an increasingly social-media driven market. Here is what we can expect to see:
______________________________________________________________________________
A Millennial-Driven Market
According to Business Insider, 18-35 year olds contributed to an 85% growth in the luxury goods market in 2018, and were responsible for over half of Gucci's market growth in the previous year. These stats can be attributed to the impact of social media and prolonged economic growth after the Great Recession. Much like the 1920s, the 2020s will be marked by younger, more liberated trailblazers.
Kylie Jenner epitomizes the lucrative profitability that may result by capitalizing social media as a marketing strategy; at age nineteen, the business moghul is estimated to have made $1 billion from her cosmetics line since its inception in 2015. The social media epoch has also become a catalyst for traditional brands to market via branding due to recognition as statuses of success and wealth; the double-G logo of Gucci belts and trademark H in Hermes belts have become staples among fashionable millennial 'influencers'.
Streetwear and Athleisure
For the longest time, sweatpants were to be worn on two occasions: standardized tests and to bed. Now, what was once considered socially unacceptable has become the fashionable norm; Kourtney Kardashian recently quipped, "My pants are Yeezy, my shoes are Yeezy, I have seven stylists to put me in sweats and leggings," mocking sister Kim's lifestyle . While streetwear has always existed at the fringe of American culture, its entrance into the mainstream may be attributed to Virgil Abloh and his creative direction of Off-White, a luxury brand that has come to join competitors in the widening market for hoodies, jeans, and wind pants.
The most recent example of this has been the collaboration of Adidas and Ivy Park, the brainchild of Beyonce's athleisure genius. The collection features everything from biker shorts to beanies, and utilized its infamous orange boxes with the celebrities of Reese Witherspoon and Yara Shahidi to promote its meterotic sales–the entire collection sold out within a matter of hours, and combines all aspects of current successful athleisure markets: celebrity endorsement, style, and comfortability.
Sneakers . . . But in Color
White sneakers dominated the late 2010s. We had various shades of Reeboks, Balenciagas, Converse, Puma, Stan Smiths, and Forces, all for good reason–white "dad" sneakers' versatility and nostalgic similarity to earlier decades came to wide appeal at low costs. And while white sneakers aren't going anywhere, producers are meeting consumers' need for diversifying colorways as white becomes oversaturated and even trite. Walking down the halls of the Atrium, one might find twenty pairs of the same classic AF1s. And while the silhouette and appeal of such sneakers is eternal, something more is coming our way: individuality.
Vibrant butterflies, lightning bolts, and colorblocking have all been impressed upon AF1s at Enloe in the past few weeks alone. But we can expect more diverse, colorful sneakers in the months trailing the new year as students find niches for individuality and creative integrity in a world of chunky FILAs (which will hopefully die out very soon). Neon and animal prints can also be expected shoe trends in the upcoming months, but we can reliably predict the wearing-sneakers-with-everything wave to stick around for upcoming years.
The Thunberg Effect
Conversation regarding the effects of fast fashion on the climate crisis has become a central topic in the fit community. This is especially pertinent given the graveness of the Earth's ecological degradation, as marked by the environmental disasters of the 2010s caused and exacerbated by climate change. The bleaching of the Great Barrier Reef, record-breaking heat waves in Europe, and fires from the Amazon to Australia are representative of the worst of what has been the hottest decade since the Industrial Revolution. Given that the fashion industry accounts for 8% of all carbon emissions, more than airline and maritime travel combined, it is essential that the industry steps up to reconcile with its ecological ramifications.
Consequently, thrift and consignment stores have grown in popularity as a more sustainable mode of shopping. We can also expect more politicized apparel in response to this ecological crisis, as well as references to the upcoming election (this is evident through the birth of pink pussy hats and graphic tees in response to the 2016 election). Despite this, the current economic boom, mass consumption, and increased shipping necessitated by e-commerce will continue to employ unsustainable fossil fuel usage.
Internet Culture
We are living in the Age of TikTok. In time, the platform will inevitably follow the fate of other extinct social media, but its expiration date is arbitrary, and the app has many years left in the 2020s to evolve and repopularize.
One of the most profound fashion effects of TikTok has been the emergence of "e-boys" and "e-girls". According to Urban Dictionary, this subculture is popularized by ruffled hair, dark clothes, painted nails, beanies, and oversized chains, and is most comparable to the 2010s' goth, skater, and emo subcultures. This trend is best epitomized by the junior class, which was represented by a horde of e-girls and boys by their respective representatives in student council, led by Yaseen Echekki. Enloe influencers Eme Tuttell, Keegan Sell, Nia Stewart, and Adam Burchell have also amassed veritable TikTok clout.
______________________________________________________________________________
While I run @enloefits and am consequently one of the most reputable fashion authorities at Enloe, all of these are predictions are at best that: predictions. The '20s will be defined by the Internet and its trailblazers, but how that will play out is no more predictable than the future of our national political economy. Whatever they will be, we should do as much as we can to channel our predecessors from one hundred years ago and party like we're on the brink of a stock market collapse . . . to quote Fergie, "A little party never killed nobody!"
Leave a Comment
Donate to Enloe Eagle's Eye
Your donation will support the student journalists of Enloe Magnet High School, allowing us to cover our annual website costs. We are extremely grateful for any contribution, big or small!
About the Contributor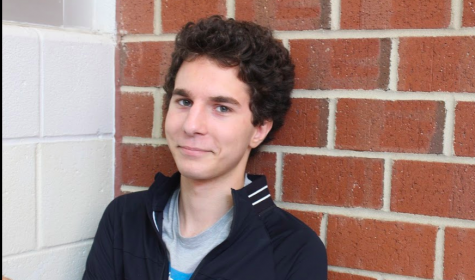 Joey Marmaud, News Editor
To include a staff biography, click on New under Staff Profiles and fill out the required fields in the Profile Information Section.