In With the Old…In With the New
Since the dawn of music, artists have inspired artists. Older musicians – commercial or underground – have, often unknowingly, influenced every single new artist. Aside from providing inspiration, older songs are often also physically featured inside the composition of newer music. 
Sampling is a musical process in which portions of songs are incorporated into a new piece. After receiving permission from the original recording artist and label, musicians are able to copy a portion of an old song and paste it into a new piece of music. Artists in every genre have been doing this for decades. 90's rapper Notorious B.I.G.'s posthumous number one Billboard Hot 100 single "Mo Money Mo Problems" sampled Diana Ross' LGBTQ+ anthem "I'm Coming Out." Almost two decades later, pop singer Ariana Grande sampled the same track in  "Break Your Heart Right Back," with Childish Gambino. 
Another way artists use previously created works to enhance their own is through interpolation; when a portion of a song's melody is re-recorded and placed in a new track. Amy Winehouse's "Tears Dry on Their Own" interpolates Marvin Gaye and Tammi Terrell's "Ain't No Mountain High Enough." That same song by Gaye and Terrell was also completely re-recorded by Diana Ross in 1970, where it finally became a Billboard chart-topper. In more recent years, Olivia Rodrigo's 2021 "deja vu" and "1 step forward, 3 steps back" have melodies that interpolate two different Taylor Swift songs: "Cruel Summer" and "New Year's Day," respectively. 
We know that artists serve as inspiration for other artists, but how can musicians of older generations extend their impact even further? Their influence is expanded through mentoring and collaboration. Mentors in music and experienced artists advising and supporting newbies have been a staple in the industry for decades. In the '60s, David Crosby (of Crosby, Stills, Nash, and Young) mentored the now songwriting superstar Joni Mitchell. He helped her get into the American music scene, which expanded her talent and career. Moreover, Broadway sensation Kristin Chenoweth has been mentoring Ariana Grande, and is even serving as the official mentor for Grande's team on the musical competition series "The Voice."
In the past few years, we have seen more and more certified legends collaborating with newcomers. For example, Country superstar Dolly Parton, godmother and mentor to Miley Cyrus, was featured on Cyrus' 2017 track "Rainbowland." Later, after switching genres, her 2020 rock album Plastic Hearts features multiple rock icons such as Billy Idol, Joan Jett, and Stevie Nicks. Renowned jazz singer Tony Bennett and Lady Gaga released their collaborative album Cheek to Cheek in 2014, making Bennett, who had been away from the scene for some time, the oldest artist to achieve a number one album. And in 2021, following Bennett's Alzheimer's struggle, he released his 61st and final studio album Love for Sale, another synergistic top ten album with Lady Gaga. For a film and musical crossover, last winter Ariana Grande, whose vocals and music are heavily influenced by Mariah Carey, was invited (along with Jennifer Hudson) by Carey to feature on the recreation of "Oh Santa!" as part of her Magical Christmas Special. 
In October 2021, Elton John released his 32nd studio album The Lockdown Sessions: a collection of new and reimagined songs recorded during the Covid-19 pandemic, featuring over 20 other musicians. The artists featured on the upcoming album include older stars and new hitmakers, including Dua Lipa, Nicki Minaj, Miley Cyrus, Lil Nas X, Rina Sawayama, Stevie Nicks, and Stevie Wonder. The lead single "Cold Heart PNAU Remix," featuring Dua Lipa, hit the Hot 100, bringing Elton John back to the chart for the first time since 2000.
Collaborations among artists of varying ages not only allow for creative exploration among them, but inherently broaden the audience's music exposure as well. When singers cross genres, their supporters are forced to listen to the collaborating musicians' personal styles. While the more experienced singer helps the newcomer build connections and status in the industry, the newbie can bring a musician past their prime back into the limelight. In essence, everything old becomes new again.  And everything new becomes newer.
View Comments (1)
Donate to Enloe Eagle's Eye
Your donation will support the student journalists of Enloe Magnet High School, allowing us to cover our annual website costs. We are extremely grateful for any contribution, big or small!
About the Contributor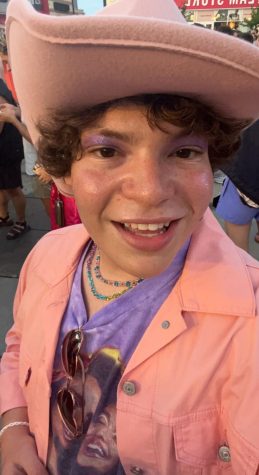 Andrew Kochman, Staff Writer


(He/him)

Andrew is a senior who is thrilled to be on the newspaper for a second year! He loves listening to the latest pop music, singing,...