What Your Favorite Holiday Song Says About You
Ah December. From holiday shopping traffic that not even the Enloe carpool line on the first day of school could beat, to that overpowering peppermint and tree sap smell that doesn't really go away until February, there's so much to love *or hate* about the yearly holiday season. But nothing encompasses the love, chaos, and spirit of the most wonderful time of the year quite as well as the problematic duets and wistful winter ballads we have made synonymous with it. So, pause whatever stop-motion Christmas special you were watching and relax with a large mug of hot chocolate as I break down what your favorite holiday song says about you.  
White Christmas
I'm willing to bet money that you live under the Mason-Dixon line, and that no matter how much you sing about it, the only way you're ever seeing snow fall on December 25 is if there's a Day After Tomorrow-level second ice age. But hey, silver lining: With the way climate talks are going you might be getting your wish soon. Let's just hope you don't live in Florida.
Mele Kalikimaka
You're one of those people who's ideal Christmas is on a tropical island with the sand in your feet while the waves wash up nearby (sacrilege!). Have fun with your island Christmas or whatever, but let's be honest: While you're sipping your virgin pina colada, are you going to be thinking about the fact that you're nodding along to romanticized cultural appropriation? No, no, you are not. 
Jingle Bells
You get way too into Christmas. You have all those crazy sweaters with the tinsel on them and you put up your decorations the day after Halloween. I have two words for you: CALM DOWN. Put down the jingle bells and actually work on that APES homework you've been putting off till the last minute to trim your tree (And lay off the peppermint mochas… seriously.)
Grandma Got Run Over by a Reindeer
What is wrong with you?! Under what horrible circumstances is a song about granny-cide ever grounds for favoritism? I don't care how much eggnog she'd been drinking, this is not ok. I'm genuinely concerned for you (but a little more for your grandma…)
Dreidel, Dreidel, Dreidel
I admire your loyalty to Chanukah in this Christmas-central world (and the tolerance you must have to sit through a song so repetitive and yippy… you also like Jingle Bells, don't you?) However, may I recommend a few more Chanukah songs that give a bigger picture of the holiday? Say, Light One Candle by Peter, Paul, and Mary?
Rudolph the Red-Nosed Reindeer
Whether you relate to Christmas's favorite underdog or you just enjoy the classic tale, Rudolph is a great choice for your favorite Christmas tune. Unfortunately, the Karens of America™ will soon be knocking at your door informing you of your treachery for encouraging the bullying and abuse of the poor little Rudolph every year during the holidays. But don't worry, as soon as some barista doesn't include the extra 3 shots of vanilla in their triple-sugar cookie non-fat low-carb holiday frappuccino, they'll forget about you and you'll be free to enjoy Rudolph for the rest of the season. 
Christmas Tree Farm
How did the Swiftes get in here? NO! I'm sorry if you didn't get the memo, but this is an article for holiday songs, and Taylor Swift singing about her hometown while throwing the words 'Merry Christmas' in there at the last minute does not count. Now grab all your escapism and longing and scoot… we don't have time for you right now.
Last Christmas
Look, I'm sorry about whoever hurt you, I really am. And I understand feeling sad about it (although I don't understand why you have to listen to George Michael's painfully 80s breathy voice to feel better), but for Santa's sake, please keep all your relationship drama to yourself. Some of us are trying to partake in some yuletide joy over here. 
What Are You Doing New Year's Eve
I can tell you exactly what you're doing New Year's eve: Nothing. You're going to sit at home and watch the ball drop like you do every year, sad and alone with nothing but Ella Fitzgerald to comfort you. Then you're going to make a resolution that you know you won't keep and prepare yourself for the fact that it's all just gonna start over again come tomorrow. 
Leave a Comment
Donate to Enloe Eagle's Eye
Your donation will support the student journalists of Enloe Magnet High School, allowing us to cover our annual website costs. We are extremely grateful for any contribution, big or small!
About the Contributor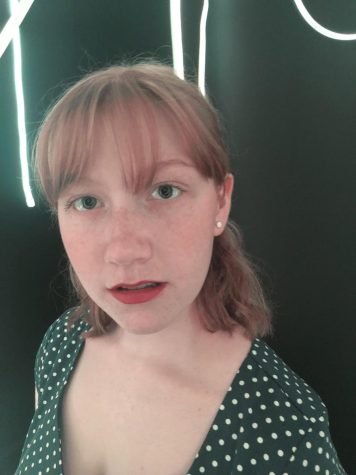 Sam Heyl, Opinion and Creative Writing Editor
(She/her)

Sam Heyl is a senior excited for her second year on the Eagle's Eye! She lives and breathes animation and any/all creative writing. When she's...