Midnights by Taylor Swift: Album Review
**Disclaimer** 
We are fans of Taylor's music and this is only our opinion.
With an upbeat tempo reminiscent of "I Think He Knows" on her album Lover, "Lavender Haze" is about a blissful love not being derailed by the opinions of others. It's a strong opener to Midnights and sets the tone for the rest of the album to come. 
This song feels like "New Years Day"'s younger sister because of the sultry production. It has the same slow but heavy rhythm. The name "Maroon" is a progression of the "Red" motif that appears in many of her albums. The imagery and buildup make this song very special, with a simple yet effective bridge that ties the song together. 
"Anti-Hero" is the lead single of the album and according to Swift, her favorite she ever wrote. Anti-Hero is a good song, it's fun and sarcastic, which reminds us of "ME!" (but better). The music video was released the day of the album's premiere, and is a very entertaining watch. 
Snow On The Beach (feat. Lana Del Rey)- 4/5
A slow-paced song, it reminds us of "mirrorball", it's catchy, the lyrics describe falling in love and not understanding why someone is falling in love with you. As Lana fans, we were disappointed that she did not get a verse on the song but their voices blend together very nicely when she sings harmony. 
You're On Your Own, Kid- 5/5
"You're On Your Own, Kid" in our opinion has one of the best bridges of the album. It delivered the Taylor bridge we were looking for, and continued the fifth track tradition. This song would fit in with 1989, the juxtaposition between the upbeat tempo and sad lyrics makes the song more engaging.
Sometimes the golden retriever guy trope is boring and instead of seeking stability with a nice guy we want emotional depth- even if that comes with fighting and disagreements. Taylor is very experimental with the production of this song, and though it takes a while to get used to, it works. 
This is our least favorite on the album, it's too specific to relate to and isn't quite as catchy as the other songs. This song feels like rehearsing arguments and confrontations in your head when you're trying to fall asleep. 
"Look what you made me do", "Bad Blood" and "No Body No Crime" had a kid. "Don't get sad, get even." Even though it's kind of an aggressive song, it's very fun and reminds us of Reputation, her sixth album released in 2017. Very fun to listen to as a confidence booster. 
A fun song about regaining your sparkle after an emotionally draining relationship. Bejeweled is the perfect song to sing while getting ready. Many people think it's reminiscent of "mirrorball", one of her top songs from Folklore, like a continuation of a story. 
"If it rises fast it can't last," "Labyrinth" is about being hesitant to let your guard down after getting out of a bad relationship. This is one of the most intimate songs on the album, with an ethereal, dream-like production. The repetition at the end of the song illustrates the internal struggle that you can feel when you want someone, but are scared of being hurt again. However, we can see with Taylor's relationship with Joe, sometimes taking the risk is worth it. 
"Karma is a cat purring on my lap because it loves me." "Karma" is a bop and no one can tell us otherwise, it's such a fun little mood booster. It feels like the kind of song you would scream driving on the highway. 
Taylor Swift was joined by her long-time boyfriend Joe Alwyn for this song. "Sweet Nothing" is very cute, "It's Nice To Have A Friend", and lullaby vibes. The high-pitched piano gives the song a more juvenile, innocent sound.  
Leaving things up to fate is not in Taylor's nature. In the closing track to Midnights, "Mastermind" tells about the incessant urge to calculate your every move in order to intrigue the person you are infatuated with. Though the song is very strong lyrically, it is just not as engaging or catchy as other songs on the album.
Chloe's final rating: 4/5
I was expecting a folk-indie album like her previous two releases; however, I am glad that she is going back to pop with a fresh twist. This album is reminiscent of many of her previous eras and rounds her discography nicely while also standing out for her experimentation in production.
Favorite tracks: Labyrinth, You're On Your Own Kid
Nora's final rating; 4/5
I really enjoyed this album, and I think it's worth a listen. Throughout this album, Taylor Swift was really experimental but you can still feel her in all of it. Out of all Taylor's albums, it's not my favorite, but overall there are some really good songs and I will continue to listen to it. Her versatility is really nice, and she can create good music in so many different genres. 
Leave a Comment
Donate to Enloe Eagle's Eye
Your donation will support the student journalists of Enloe Magnet High School, allowing us to cover our annual website costs. We are extremely grateful for any contribution, big or small!
About the Contributors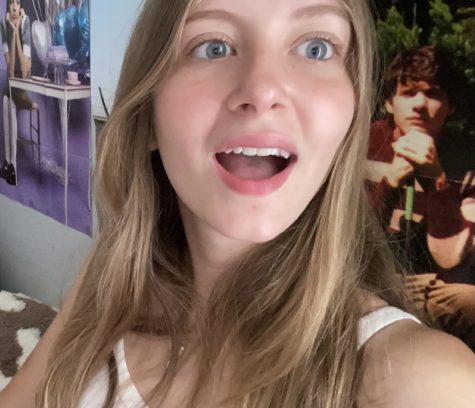 Chloe Yuastella, Staff Writer
After two years of being a devoted Eagle's Eye fan, Chloe is honored to be apart of the staff! She loves crying to Taylor Swift songs, watching Michael...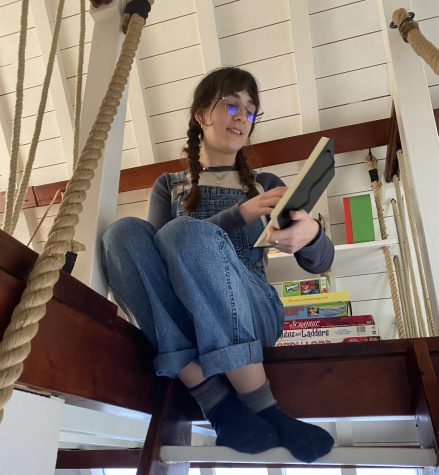 Nora Gillett, Staff Writer
(She/Her)

Nora is a junior excited for her first year on the Eagle's Eye. When she's not hanging out with her friends, you can find her using her...