The Student Designers Bringing Enloe's Dracula To Life
Behind every cast of actors in an Enloe show is a team of student technicians responsible for making it happen. They're more than a name in the playbill; from the clothes the cast wears, to the set they stand on, every aspect of the show is deliberately designed to fit their vision and be shown off to all. Dracula shows on Wednesday, November 9th to Saturday, November 12th in the Enloe auditorium. Tickets, which are $8 for students and $10 for adults, can be bought online or at the ticket booth in the west gym lobby before any of the shows. Following opening night this Wednesday, read on to see how Enloe's upcoming team of student designers have made this production a reality.
"Arts and crafts on steroids" – Props
Every prop used by the actors is made in-house by props masters Izzy Richman, Gabby Bretz, and their crew, making creative use of the materials available to them. "The other piece of our crew is set dressings, which are just props that sit on the set," Izzy adds. "What would someone have on a study, or in a study, like on their desk? And so, once we hear the general visual idea for the show, we can start getting into more specifics."
But of course, a set of heavily used DIY projects is not indestructible. "It's a constant challenge," shares Gabby. "A lot of people like to play with props and break them. And [for] a lot of those props, we have to give very specific directions to the actors that do use them." As such an independent crew, Gabby explains their biggest challenge is just communicating. But overall, the crew has had a lot of fun experimenting with different designs, all of which you can see for yourself when Dracula opens this week.
"Can we fix it? Yes we can!" – Set
"[When] I heard Dracula, I instantly thought Vatican, medieval, very rigid structures," begins set designer Aaron Ryzoff. But when the director, Mr. Jernigan, revealed his idea of having a steampunk look, he rethought everything. "With steampunk comes your more rounded edges, your curves, gears, and pipes," he explains. "It was a completely different path than I had originally gone down. It was really cool. I'm glad it happened."
"Construction was honestly the scariest part for me, designing for the first time," Aaron reflects. He describes the beautiful feeling he felt walking into class and seeing it up for the first time, and thanks the rest of his crew for bringing his design to life. Aaron's favorite part of the set is "100% the French doors. That whole little area around it was such a pain to get right," but it was worth the trouble, he clarifies. "That is the centerpiece. That's the point where entrances, exits, the big moments like Dracula's first entrance all happen."
"Bringing the set to life" – Paint
As simple as scenic designer Tallula Nichols makes it sound, no set is complete without a carefully crafted coat of paint. "[Mr. Jernigan] wanted steampunk, by the ocean, very rustic," she explains. "With that, I did a little Pinterest searching, got a little inspiration, and I really just started putting stuff together and seeing what worked." Take the brick paneling on the set, for instance; despite being one of the crew's biggest challenges, it ended up being one of their greatest accomplishments. "I'm pretty sure we had to redo every panel at least twice," says Tallula. But she concludes that the hard work was worth it: "Those are like my children. That is my pride and joy." Thanks to Tallula's scenic design, the set looks and feels complete.
"Making sure everyone knows" – Publicity
"Our whole job is to get the word out," says publicity head Atticus Johnson. "We have failed as a crew if no one knows and no one attends." Publicity involves everything outside the theatre, from trailers, posters, social media, to even articles posted to the Eagle's Eye. Being new to the job, getting everything in order has certainly been a challenge for Atticus and Louisa Zaloom, the other publicity head. For the first time in several years, Publicity is also making stickers to promote the show! So, if you haven't already, go get a Dracula sticker, and get the word out!
"Bobby-pins and brushes galore" – Hair and Makeup
According to hair and makeup designers Kelly Calvillo and Sam Carter, it all started with a script and a Pinterest board. "The process for both of us has been a bit of doing research into some of the characters' past portrayals combined with discussions with the costuming crew and Mr. Jernigan," Sam explains, with Kelley adding that "the best part about our hair and makeup is the prosthetics," referencing Cameron Whitley, who is responsible for adding prosthetic makeup to the designs. "Cam is literally a genius." Even with a relatively small crew, they've been able to get a lot done. While designing with another person adds a layer of complexity, Kelley enjoys seeing how her and Sam's visions have coincided to make an even better final product.
"Designing costumes for
Dracula
actors" – Costuming
The process began by reading the script and creating preliminary designs for different characters, explains Gavin Flory, who heads the costume crew along with Josie Milner and Elizabeth Bass-Singletary. But when they heard the director's vision of a beachy, steampunk-inspired look, these designs drastically changed. "It was a matter of [finding] a happy medium, of finding those darker pastels and blues." explains Josie, noting the juxtaposing beach and steampunk themes. Another large influence on their designs was the use of blood, something integral to a show about vampires. "We had to make sure whatever we were using, we were okay with destroying," Josie says, recalling back to some dresses that had to be cut in order to keep them clean. When asked about their favorite designs, the group was excited to share their hard work on the dresses for the characters Lucy and Mina—a sight you must see for yourself at one of Dracula's showings this week.
"Immersing the audience through soundscape" – Sound
"In this show we're dealing mainly with mics," says sound designer Joey Thomas. "We ended up figuring out a way to have mics within the set," he elaborates, going on to mention the surround sound system the crew has set up. "Outside of micing, we're given demands. For Blake and I, one of the bigger things is trying to find sound effects that fit the vibe, and also the time period. Because I'd come to Blake with an AK-47 gunshot, and Vlad the Impaler didn't have an AK-47." 
When asked about their favorite accomplishments of the show, Blake Hough, the assistant sound designer, said "mixing, because you yourself get to edit everything." It's important for sound designers to mix the audio in a way that's pleasant to hear, and in the case of Dracula, sometimes unpleasant. For Joey, it was "[going] into the studio to work with Pro Tools really in-depth for the first time," and being able to "put it into the space and hear the storm move around you, and thunder comes from different directions."
"Showcasing everyone else's work" – Lights
A show's lighting needs to portray emotion in a way that is subtle yet significant. This is a goal that lighting designer Nicolas DeBruin has been working towards throughout the production. "The majority of the show is spent in the study, so first and foremost, that was a thing that needed to look good," he begins. Creating a warm, safe feel, he explains, was vital to convey the atmosphere of the study, a major setting within the play. "But at the same time, we have a lot of things where Dracula breaks in," he adds, saying, "You need to convey that this is no longer a safe space. This has been taken over."
At its core, Dracula is a very grim-looking show, but "dark and show don't go well together," Nic admits. That's why his color choices are meant to emulate moonlight: "That still gives you light on their faces," he says, "but you get that more dark, foreboding atmosphere." Lastly, the crew has set up fog machines, which completely transform the feel of the show. "The ending scene just has so much power to it," Nic proclaims. "It's a culmination of everyone's designs."
"Fake it till you make it" – Stage Management
"The main goal of stage management as a whole is to help the show run smoothly and in coordination," says production stage manager Katie Kanakanui. "Our big thing is communication." With so many independently moving parts of the production, this is no easy task. "We deal with a lot of paperwork and things like that, to keep it all in order so that other people can access the different schedules, plan sheets, cue sheets, reports, notes, and so on." Although Katie's position isn't that of a designer, she is responsible for calling cues during shows and facilitating the entire production process. Despite having an almost entirely new team of designers, the show has moved along well, and we've seen successful designs come from each and every crew. "Some of my favorite moments are opening night, closing night, and curtain calls," concludes Katie. "Now we have an actual audience that we can share all of our hard work with."
~~~
After weeks of work from the cast and crew, Dracula opened at 7 PM this Wednesday. When asked about anything they might want to say to Eagle's Eye readers, the answer nearly every designer gave was, "Come see the show." After all, what makes all the effort worth it is having an audience to see the show. 
Leave a Comment
Donate to Enloe Eagle's Eye
Your donation will support the student journalists of Enloe Magnet High School, allowing us to cover our annual website costs. We are extremely grateful for any contribution, big or small!
About the Contributor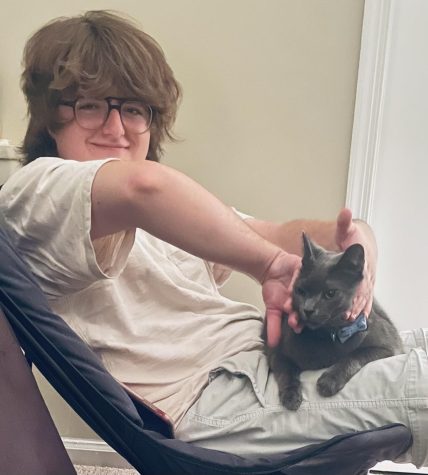 Jadon Frank, Staff Writer
(He/him)

Jadon Frank is a junior looking forward to his first year writing for the Eagle's Eye. If you can find him outside of Enloe's theatre designing...