How to Achieve Your New Year's Resolutions
It's another year at Enloe High School, but that doesn't mean it needs to be the same. Last year may have been a mess, but this year will be better, right? Just follow our airtight advice and you'll be living your best life, or as close as you can get to.
Getting Better Grades: You may have already given up on Second Quarter, but fear not. There's still another semester, plus final exams waiting for you. In order to complete your academic comeback, you'll need to lock in and dedicate all your attention to classes. The easiest way to do this: just cheat. Unfortunately, most forms of cheating are hard to get away with. Pulling your phone out during class is too risky, so what will you do? Something most teachers don't realize is that students can look at the material outside of class. Instead of just limiting yourself to learning in class, take some time to look over your work at home. It's a strategy not often used at Enloe, so most teachers won't expect it. Just go over your work the night before, do your best to remember it, and they'll never suspect a thing.
Don't Skip Class: The temptation of truancy is a troubling one, which many students have fallen for. Whether it's an extended bathroom break or even daring to drive off of school property, there's a variety of enticing alternatives to being in class. In order to get yourself in a seat, we have a simple solution. Duct tape, and its many copycats, works wonders to keep things in place. Now, it can keep you in class! Everyday, just bring a roll of everyone's favorite industrial adhesive. Once you sit down, wrap it around your waist and the chair a couple times, and voilà! There are even a wide variety of colors and designs, so you can mix and match duct tape with your outfit.
Improve Your Love Life: Perhaps your grades are grand, but your love life is in the can. Reading too much Shakespeare would wreck anyone's romantic relationships, or maybe you're still recovering from Charity Ball. But for those ready to dive into the dating pool, fear not! There are several ways to secure your special someone at Enloe. The first is the LoeDown's very own original show, "The Dating Game." Prove to the school why YOU are the most endearing eagle scholar, live at 9:00 in the morning. For those afraid to perform under public pressure, simply find a romantic spot at school to use your irresistible 'rizz'. We recommend the pool on the roof of the East Building. It's secluded, and the intoxicating aroma of pool chemicals is suprisingly similar to roses. 
Fix Your Fashion: Maybe your fits fell behind in 2022. Two years of wearing sweatpants and never leaving the house would screw up anyone's sense of style. But it's a new year, new you, so here's what to do. In order to stand out from the crowd, you'll first want to get a pair of red flannel pajama pants. For maximum comfort, pair this with a sweatshirt, preferably one that has an Enloe logo. This next part may be a bit too high fashion for high school, but if you're feeling extra fancy throw on a flannel button up over the sweatshirt. Now all you're missing is some socks and sandals, and you've got a one way ticket to Enloe fashion fame.
So, now that you've learned how to conquer the new year, go out and do so. Keep our expert advice in mind, and nothing could possibly go wrong. 2023 is your year, after all.
Leave a Comment
Donate to Enloe Eagle's Eye
Your donation will support the student journalists of Enloe Magnet High School, allowing us to cover our annual website costs. We are extremely grateful for any contribution, big or small!
About the Contributor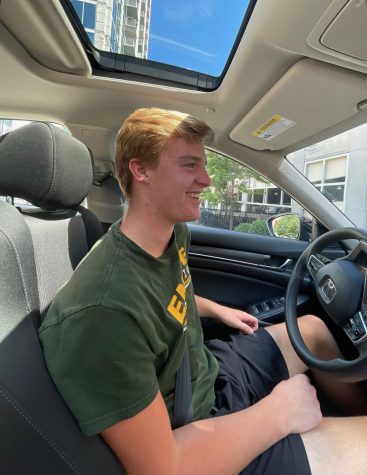 Wyatt Gessner, Staff Writer
(He/him)

Wyatt is a junior who's excited to be a part of the Eagle's  Eye for the first time this year. When he isn't swimming for Enloe he can...