7 New Albums YOU Should Listen To (from this year)
With over a third of the year already gone, 2022 is shaping up to be another big one for the music biz. Several huge names have already dropped a slew of highly anticipated records, and there's sure to be more coming down the line. Let's take a look at some of the best releases of the year so far in both the mainstream and the indie worlds. 
Motomami by Rosalia
Since her 2017 debut, Los Ángeles, Rosalia has proven herself to the world with an incredibly versatile sound. Her angelic voice and her blend of flamenco and latin folk influence with modern pop and reggaeton were front and center on her sophomore record El Mal Querer, winning her two Grammys and establishing her in the global spotlight. Motomami features an experimental twist on the signature sound featured in El Mal Querer; with an even wider array of genre-blending and more personal themes featured in her lyrics. The album kicks off perfectly with "SAOKO," a fiery jazz, bachata, electro-pop intro, setting the energetic tone for the rest of the tracks. Other highlights include "LA FAMA (with The Weeknd)," a beautiful cohesive duet over a minimalist flamenco inspired beat, as well as the sporadic, experimental, yet somehow groovy "DIABLO."
Crash! by Charli XCX
In a stark departure from her past several records, hyperpop icon Charli XCX shares a project filled with more laid back, conventional, dance-pop tunes. While it's certainly not as experimental as How I'm Feeling Now, or Number 1 Angel, nor is it as filled to the brim with hyperpop bangers as Charli, or Pop 2, it still has all of the unique Charli charm that makes her music enjoyable. The grand melodic synths on "New Shapes" and the 80's inspired city pop instrumental on "Baby" were my personal favorite stand out moments on the project. 
Dragon New Warm Mountain I Believe in You by Big Thief
For the past couple decades much of the Indie Folk genre has been dominated by the same granola, uninspired acoustic tunes catered towards bearded, flannel clad, craft beer drinking millennials. The new Big Thief album is not only a breath of fresh air for this space, but is also a masterclass in beautiful, unique songwriting. Right off the bat, tracks like "Time Escaping" and "Spud Infinity" showcase their ability to expertly incorporate unconventional instrumentation while staying true to their folksy roots. "Certainty" and "Little Things" show the band's ability to make laid-back and upbeat indie bangers. The biggest standout for me is "Simulation Swarm," which contains some of the most alluring, cryptic lyrics I have ever heard. This album is undoubtedly one of the best musical projects of the year so far. 
Dawn FM by The Weeknd
This synth-pop concept album is like a trip to a nightclub in space. Even the radio host narration performed by the legendary Jim Carrey is pleasing to the ears. The sleak, 80's inspired sound that The Weeknd featured in his hit 2020 album, After Hours, once again defines this record, though this time with a more mature, authentic feel. Abel has truly grown into his style and when paired with great songwriting and storytelling he creates the masterpiece that is Dawn FM. "Take My Breath," "Is There Someone Else?," and "Less Than Zero" are all standout moments, though there isn't a single track I wouldn't consider amazing. 
Once Twice Melody by Beach House
In their early years, Beach House took the genre of Dream Pop and completely made it their own, becoming a respected indie powerhouse for the next decade. Once Twice Melody is the perfect showcase of the band's greatness. Despite the length, it's perfectly accessible, with each song bringing something enjoyable to the listen. The record reached #1 on the Billboard top 100 in its first week, a first for the band, proving the project's reach; and it's well deserved. Beach House experiments with their famously ethereal sound in ways never heard before. The title track sounds like the soundtrack of an old-school adventure movie, but clouded in dreamy Beach House fog. "Over and Over" and "Only You Know" are similarly cinematic, with blooming instrumentals that grow into an explosion of layered synths and guitars by the end of both tracks. There is truly something on this album for everyone, and it's one of the band's best projects to date. 
Caprisongs by FKA Twigs 
FKA Twigs mixtape: Caprisongs, is romantic, groovy, and above all else, fun. With House influenced beats, star power features, catchy choruses, and still with all the unique charm of her previous projects, Caprisongs  is perfect for post-covid summer night fun. My favorite tracks were honda (feat. pa salieu) with its fun, chic beat and lyrics, as well as the catchy hit single: jealousy (feat. rema).
Duality by Luna Li
Singer-songwriter-producer-multi-instrumentalist Luna Li's 2021 Jams EP left listeners and critics with high expectations upon hearing her talent for unique instrumental production. This year, she blessed fans with her debut full-length project: Duality. It's full of the same ethereal production featured in Jams, but this time with the higher production-value that comes with a studio record. Many of the songs also show beautiful singing on the part of both Luna and her guests. One stand out moment is the dreamy outro on "Silver Into Rain" (with beabadoobee), as well as the groovy beat and catchy hook on "What You're Thinking."
Leave a Comment
Donate to Enloe Eagle's Eye
Your donation will support the student journalists of Enloe Magnet High School, allowing us to cover our annual website costs. We are extremely grateful for any contribution, big or small!
About the Contributor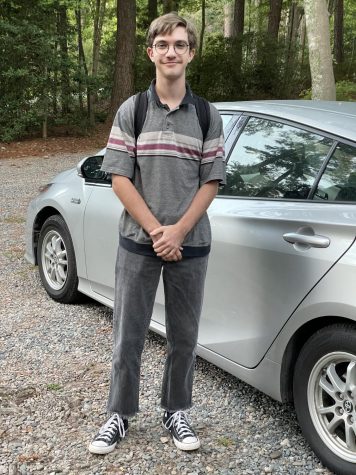 Owen Lockett, Staff Writer
(He/him)

This is Owen! He's an aspiring musician, an amateur skater, a middle child, a JBrekkie enjoyer, and a staff writer for the Eagle's Eye. Owen...